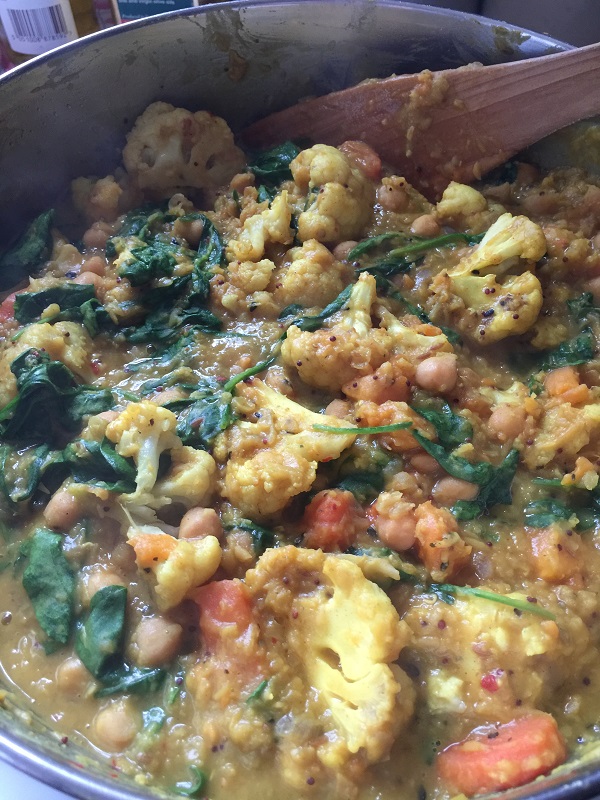 09 Jan

Chickpea, red lentil and vegetable curry with roast cauliflower (vegan)

Simply delicious aromatic curry – protein provided by the lentils and chickpeas, simple vegetables and some roast cauliflower. Roasting the cauliflower ensures it doesn't break up and disappear into the curry. A favourite in my house.

200g red lentils, rinsed
1 x 400g tin organic chickpeas, include water
2 carrots, chopped
2 small sweet potatoes. peeled if necessary and chopped
1 onion, finely chopped
2 cloves garlic, crushed
1 tsp mustard seeds
1 tsp cumin seeds
2 tsp cumin powder
1 tsp turmeric
1/2 tsp chilli flakes
1 1/2 tsp salt
1 tsp vegetable bouillon
2 tbsp coconut oil
1 small bag of washed baby spinach

For the roast cauliflower

I small cauliflower, cut into florets
1 tsp black sesame seeds
1/2 tsp turmeric
A few grinds of salt and pepper
2 tbsp melted coconut oil

Place the cauliflower into a large bowl, spoon over the oil and sprinkle over the seasonings then toss well to coat. Spread out on a baking tray and roast high in the oven for 2o minutes on gas 6 or 200C till slightly browned and just tender.

Meanwhile fry the onion, cumin and mustard seeds in a large saucepan in the coconut oil till you can get the smell of the aromas, then add in the other vegetables and the other spices and garlic. Fry for a few minutes.
Add the rinsed red lentils and the tin of chickpeas plus their water and stir in 600ml just boiled water from the kettle.
Add the salt and bouillon and bring to the boil, then simmer with lid on for 20 minutes until lentils are soft.

Add the spinach stir in well, then stir in the roast cauliflower.

Serve with brown rice and a green salad.