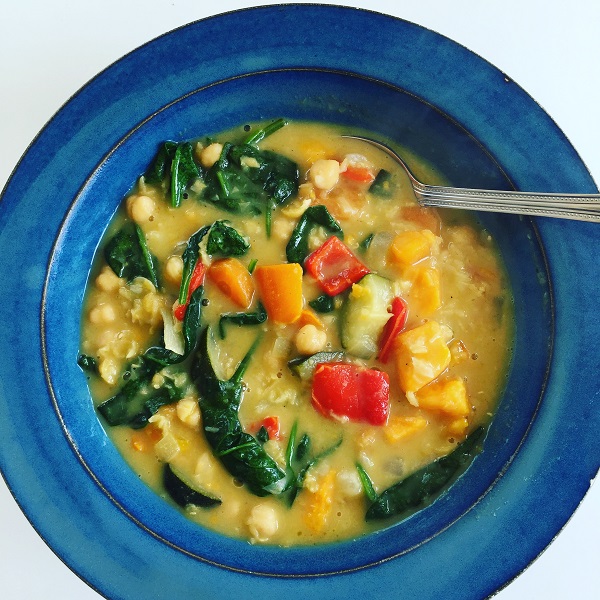 13 Apr

Chickpea, spinach and vegetable Thai curry

A simple quick curry for dinner. I've used Thai Gold curry paste here, it has only good ingredients and takes the hard work out of making a quick dinner.
I've added chickpeas for protein and some red lentils which also add protein and thicken the curry. Many of the vegetables used add antioxidants for a healthy immune system. Serve with rice or noodles or as it is.

1 medium sweet potato, peeled and cubed
1 onion, finely chopped
1 orange and 1 red pepper de seeded and chopped into bite size pieces
1 courgette as above
2 carrots, sliced thinly
100g washed baby spinach
2 cloves garlic, crushed
1 tbsp grated and finely chopped ginger
50ml or 1/2 jar of Thai Gold green curry paste
1 tin 400g chickpeas in unsalted water
1 tin 400g Thai Gold coconut milk
50g red lentils
1 tsp himalayan salt
1 tsp vegetable bouillon
1 tbsp tamari or shoyu soya sauce
2 tbsp coconut oil

Heat coconut oil in a large saucepan with a lid. Add all the vegetables except the spinach and heat on a moderate heat until it creates some steam and put the lid on for 10 minutes stirring often.
Then add the ginger and garlic and thai curry paste and fry for a minute then add the chickpeas plus the water from the tin, the coconut milk and about 1/2 tin of water to wash our the tin.
Stir in the red lentils and the salt and bouillon.
Bring to the boil and simmer for 20 minutes or until everything is soft.
Stir in the spinach and add the shoyu or tamari sauce and check the seasoning.

Serve with brown rice, quinoa or noodles or as it is.