05 Jan

Chocolate and banana muffins with candied pecans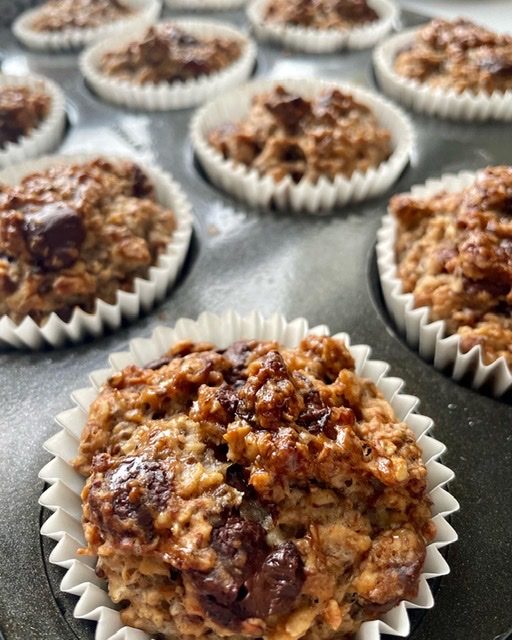 I've got quite a lot of muffin recipes on here but these vegan muffins are worth adding on. Dark chocolate chips and candied crunchy pecans paired with ripe bananas combine to make a delicious wholesome muffin for a snack or even a quick breakfast.
Preheat the oven to gas 5 or 190C


Dry ingredients

100g porridge oats
100g wholemeal flour
100g white flour or for extra protein use ground almonds
50g soft brown sugar
100g dark chocolate chopped or use chips
2 tsp baking powder
pinch of salt
75g chopped candied pecans (recipe below)
Wet ingredients
3 small to medium ripe bananas
100ml melted coconut oil
2 tbsp chia seeds soaked in 200ml oat milk for 15 mins
First soak the chia seeds and set aside.
Place all the dry ingredients into a large bowl.
Mash the bananas with a fork and add to the dry ingredients along with the coconut oil and soaked chia seeds.
Mix well.
In a 12 hole muffin tin place a muffin case in each one and fill the cases with the mixture.
Bake for 35 minutes in the centre of the oven or until they are nicely browned.
Brush with a little maple syrup once they are cooled (optional)
Candied Pecans
100g pecans halves
2 rounded tbsp brown sugar
2 tbsp water
In a saucepan heat the water and sugar together until the sugar is melted. Add the pecans and cook on a medium heat letting the caramel bubble stirring constantly for 3 or 4 minutes or until till the sugar/water disappears and the pecans are coated. Don't let them burn.
Turn out onto a tray lined with baking paper and separate with a knife and fork and let cool. Once completely cool chop them up. You'll have some left over. These keep in an airtight container for a week. Delicious sprinkled on ice cream or over your morning porridge.