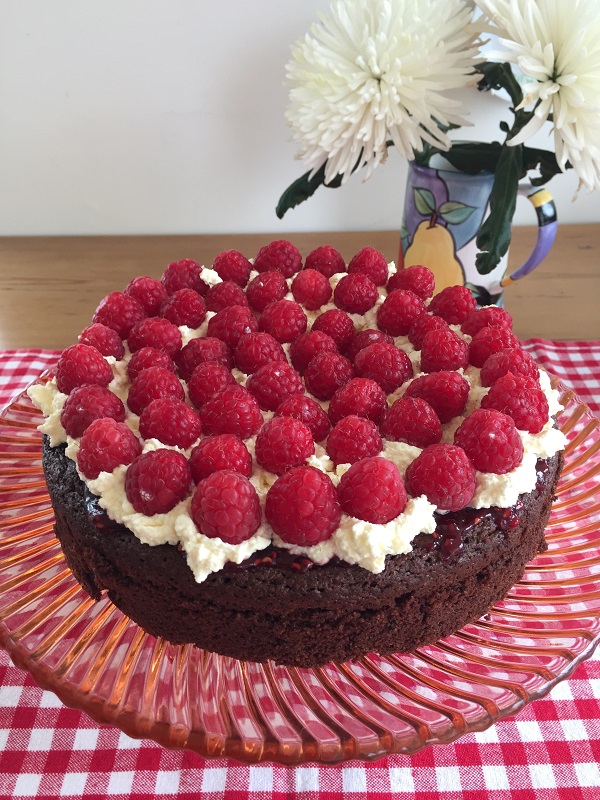 08 Apr

Chocolate brownie cake with raspberries and cream (gluten free)

This is the Brownie recipe from my book but cooked in a round cake tin instead of a square brownie tin. It is very delicious for a special occasion and if you can't take dairy replace the cream with coconut yoghurt and butter with coconut oil. Ground almonds replace flour.

200g ground almonds
1 tsp baking powder
100g soft brown sugar
200g melted dark 70% chocolate
3 large eggs, whisked
100g butter
1 x 250 ml carton of whipping cream
200g raspberries
2 tbsp raspberry jam

Preheat the oven to gas 4 or 180C
Oil and line the base of a 9″/ 23 cm loose bottom cake tin.
Melt the chocolate in a bowl over a saucepan of hot water stirring occasionally until it is melted. Add the butter and let that melt into it. Let it cool slightly.
Mix the sugar and ground almonds in a large bowl and stir in the baking powder. Make a well in the centre.
Pour the whisked eggs into the centre followed by the cooled chocolate and butter. The mix will be quite stiff.
Mix well and spoon into your prepared tin.
Level and bake for 30 minutes, don't worry if it is still wobbly. It will continue to cook as it cools in the tin.
Leave to cool in the tin for 10 minutes then remove and put on a cooling rack to further cool. It might be a bit squiggy in the middle but that makes it even more yummy.
Once cold, spread the jam over the top in a very thin layer.
Top with cream and raspberries.
Serve and enjoy!