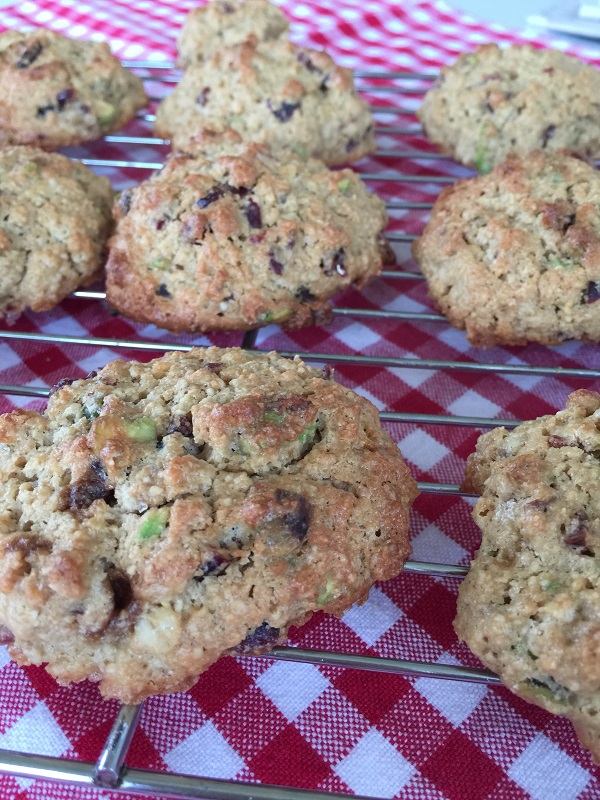 01 Dec

Christmas cranberry and pistachio oat cookies with a hint of orange

Its the 1st of December and here is the first Christmas recipe of the season! A simple oat cookie with seasonal ingredients.
These work best with butter but use coconut oil if you need a dairy free version.

100g jumbo oats
100g spelt white flour or wholemeal if you prefer
50g ground almonds
100g butter
50g soft brown sugar or coconut palm sugar
1 large egg, beaten
50 ml milk of your choice
1 tsp vanilla extract or paste
50g pistachios, roughly chopped
75g dried cranberries, roughly chopped
Zest of 1 orange, finely chopped

Preheat oven to gas 5 or 180C

Place the butter, sugar, ground almonds, oats and flour into your food processor and process till the butter is incorporated.
Tip into a large bowl along with the pistachios, orange zest and cranberries. Stir well and make a well in the centre and pour in the egg and milk and mix well. The mixture should be quite stiff.
Line a baking tray with baking or greaseproof paper and spoon on large teaspoonfuls spaced out to allow them to spread.
Bake low down in the oven for 15/20 minutes or until nicely browned.
Let them cool on the tin to harden up and then move to a cooling rack with a spatula.