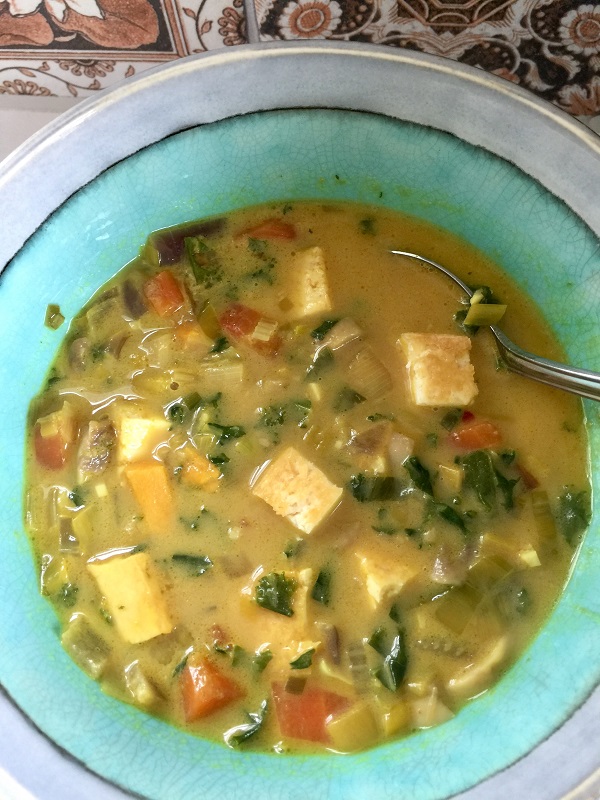 25 Mar

Coconut and vegetable broth with turmeric, ginger and garlic and fried tofu

This immune boosting broth is simple to make and very nutritious and delicious. It contains coconut oil and garlic which is thought to be anti viral, ginger is warming and good for digestion, turmeric is a fantastic antioxidant to support our immune system and most of the vegetables in this broth are considered prebiotics to feed our good bacteria in our gut which is thought to contain 70% of our immune system. Tofu adds protein to this dish.

1 pack of 200g firm tofu – i like to use Feto, fermented tofu by Taifun
1 x 400g tin coconut milk full fat
1 red onion, finely chopped
2 leeks, washed and thinly sliced
2 carrots, chopped into little dice
1 punnet of mushrooms, chopped small
1 sweet potato, peeled and chopped into small dice
2 handfuls of kale, finely shredded
4 cloves garlic, finely chopped
2 inches ginger, finely grated – i clean mine when i buy then freeze and grate straight from freezer on small side of box grater
1/2 tsp red chilli flakes
1 rounded tsp turmeric powder
4 tbsp shoyu or tamari soya sauce
1 tsp sea salt
2 tsp vegetable bouillon
800ml water
3 tbsp coconut oil

Heat 2 tbsp of the coconut oil in a large pan with a lid and add all the vegetables except the kale. Let it heat till it creates some steam and put on the lid stirring often, for about 10 minutes or until everything is nicely wilted.
Add in the garlic and ginger, turmeric and chilli flakes and stir and cook for a few minutes. Then add the coconut milk, salt and bouillon and soya sauce. Add the water and stir. Bring to the boil, add the kale and then turn down to a simmer for about 20 minutes. Check the seasoning.
Take the tofu out of its packet and using several layers of kitchen paper towel, wrap and squeeze out excess water.
Slice the block in half lengthwise so you have two thin slabs. Heat last tbsp coconut oil in a frying pan and fry till browned on both sides. Allow to cool then chop into small dice and add to the broth.