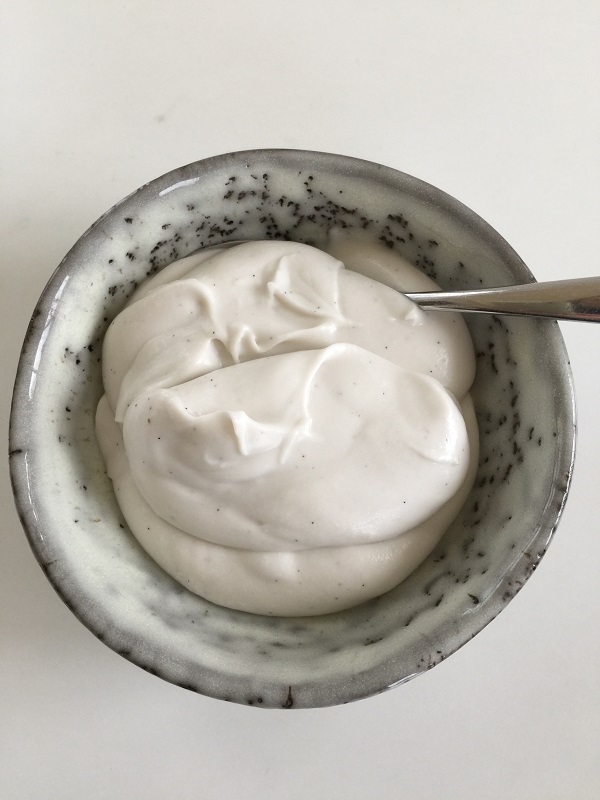 08 Jan

Coconut yoghurt (dairy free)

This is simple to make and a great alternative to dairy yoghurt if you have any intolerances to dairy or it makes a  nice change.

I used the Thai Gold Organic make of coconut milk (an Irish company) – this has a very small 0.35% amount of guar guar gum a non toxic thickener, and is 99.65% coconut milk and this provides a lovely creamy texture to the yoghut. If you use a coconut milk with no thickener you will have to add a thickener like corn or tapioca starch  will require heating. Don't use a coconut milk which is 50% cellulose and 50% coconut milk as this wont taste at all nice!

1 x 400ml tin Thai Gold organic coconut milk
2 capsules of high quality probiotic powder – I used Udos 8
1 tbsp maple syrup or honey
1 tsp vanilla paste or extract or scrap out a vanilla pod

You need one very clean jar with a lid (I use the cleaned out coconut oil jars which hold around 400ml)

Turn the tin upside down and put into the fridge for a hour or two or overnight.
Open the tin and you will find the coconut cream has collected at the top – scrape this into your jar and add 3 tbsp of the coconut water and reuse the rest in a soup or smoothie.

Sprinkle on the probiotic powder (open the capsules) and add the maple syrup or honey and vanilla. Whisk this in with a fork or small whisk.

Screw on the lid and place the jar in a warm place, next to a range or somewhere in your kitchen, in your hot press or airing cupboard, above a radiator or a warm window sill.

Leave for 12 to 16 hours and then taste – it should have a nice tart yoghurt like flavour. If it hasn't leave it a few more hours. It will have gone runny so shake the jar and put it into the fridge to firm up.

Keeps in the fridge for up to 5 to 7 days.

Delicious with granola, fresh fruit, desserts, cake etc.