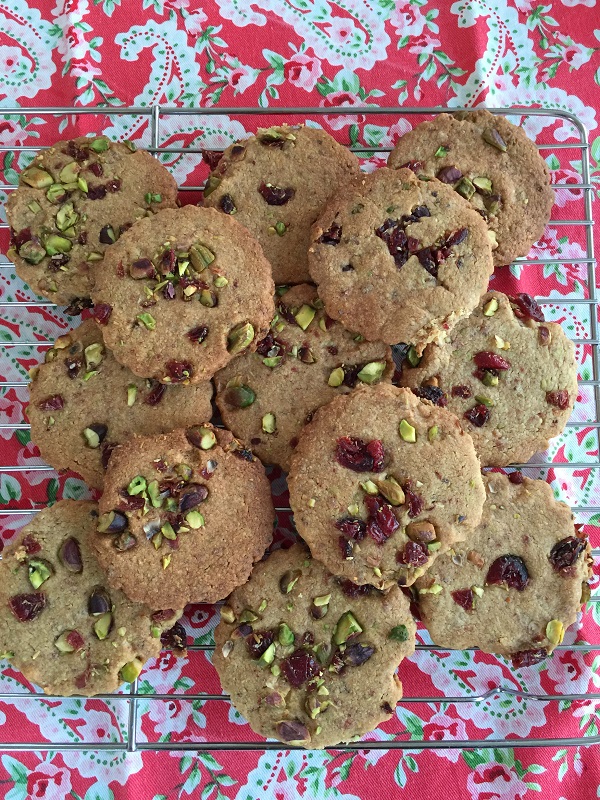 15 Dec

Cranberry and pistachio shortbread cookies

Cranberry and pistachio shortbread cookies

Simple to make in your food processor and a delicious Christmas treat.

Makes approx. 15 cookies

100g ground almonds
100g plain white flour (use wholemeal if you like – the cookie will be a bit heavier)
100g cold butter, roughly chopped
50g soft brown sugar – use coconut palm sugar if you have it
½ tsp baking powder
zest of 1 small orange
30g cranberries
30g pistachios

Topping
15g pistachios and 15g cranberries, roughly chopped together by hand on a board

Place the first group of ingredients into the bowl of your food processor and process until everything comes together in a ball.
Place the ball in the fridge for 15 minutes.
Lightly flour your work surface and your rolling pin and roll out to a round about ¼ to ½ inch thick.
Scatter the topping over the dough and press down lightly.
Cut into cookies with a scone cutter about 2 1/2 inch wide.
Place on an lightly oiled baking sheet using a pallet knife or spatula to gently lift them onto the tray.
Space out a little, you should get them all on the sheet, they don't spread too much.
Bake on bottom shelf of the oven for 15 minutes – check after 10 in case you need to turn the tray round to make sure they bake even.

When they are nicely lightly browned, take them out and let them rest for 5 minutes then remove carefully onto a cooling rack, they harden a little when cold but are nicely crumbly.