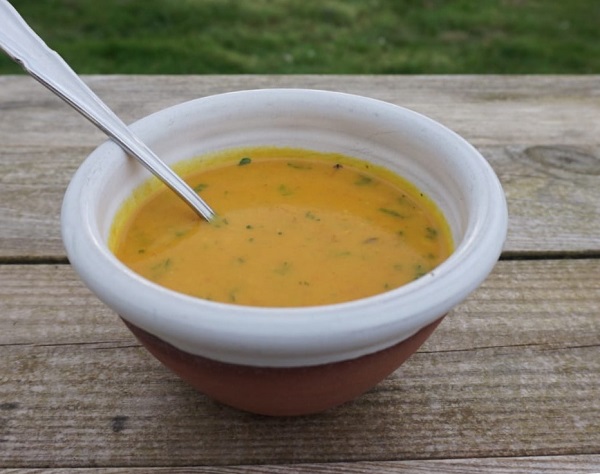 28 Mar

Creamy roast sweet potato and carrot soup with garlic and ginger

Another immune boosting soup for the times we are experiencing at the moment. This is warming and tasty with anti viral garlic and ginger and anti oxidant turmeric.

3 sweet potatoes, peeled and chopped into bite size pieces
4 large carrots as above
1 large onion, peeled and chopped
4 large cloves garlic, crushed
2 inch piece ginger, grated on fine part of the box grater
1 heaped tsp turmeric powder
1/2 tsp chilli powder
1 x400g tin coconut milk( full fat)
2 tsp sea salt
2 tsp vegetable bouillon
800ml water
coconut oil
Handful of fresh parsley, chopped

Roast the sweet potato and carrots in a roasting tin with 3 tbsp oil on gas 5 or 180C.

Fry the onion in a tbsp oil, gently for 10 minutes.
Add in the garlic and ginger, turmeric and chilli powder, salt and bouillon powder and stir together then turn off the heat and let it sit till the roast veg are ready, garlic is more potent if it is left before cooking for a few minutes.
When the veg has roasted set it aside for a few minutes.
Add the coconut milk and water to the onion and spices and heat and stir and bring to the boil and simmer for 5 minutes. Add in the roast veg and using a hand held blender, liquidise till smooth – I like to leave a little texture.
Stir in the chopped parsley.

Check the seasoning and serve with sourdough bread.