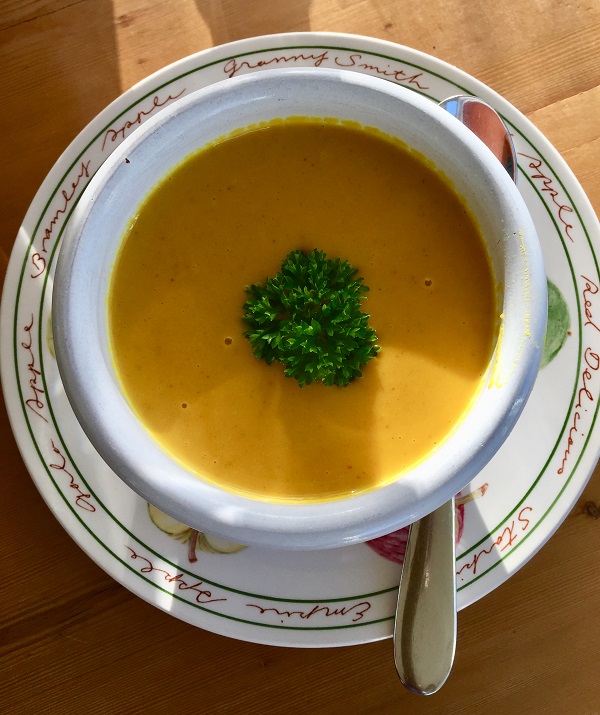 27 Dec

Curried butternut and Sweet Potato soup with Butterbeans and Coconut

A great soup for  Winters day, very warming with a smooth texture. Loads of antioxidants in this recipe from the squash, sweet potato, carrots and turmeric. The Butterbeans add protein and fibre.

1 x 400g tin butterbeans in unsalted water
1 x 400ml tin coconut milk
1 medium size butternut squash
2 medium sweet potatoes, peeled and chopped
1 red onion, chopped
2 carrots, peeled and sliced
2 inches ginger, peeled and grated
2 cloves garlic, peeled and sliced
1 tsp cumin powder
2 tsp curry powder
1 tsp turmeric
1/2 tsp red chilli flakes or to taste
2 tsp vegetable bouillon
1 tsp salt or to taste
2 tbsp coconut oil

Heat oven gas 6 or 200C and place the butternut squash on a baking tray and bake for 30 minutes in the centre until just soft. This makes it very easy to peel and cut. When cool enough to handle, slice away the peel with a sharp knife and discards the seeds. Chop into chunks.
Heat the coconut oil in a large saucepan with a lid and fry the onion for a few minutes then add the garlic, ginger, spices, salt and bouillon the rest of the veg. Increase the heat until some steam is created then turn down to a simmer and put the lid on and let the vegetables cook for a few minutes.
Add the butternut squash, butterbeans and the water in the tin and the tin of coconut milk. Add a little water if necessary so the veg is just covered.
Stir and bring up the heat again and once it starts to boil, turn down the heat and simmer for 25 minutes or until everything is cooked.
Liquidise preferably with a hand held blender until smooth. Check the seasoning and serve with some parsley scattered on the top.