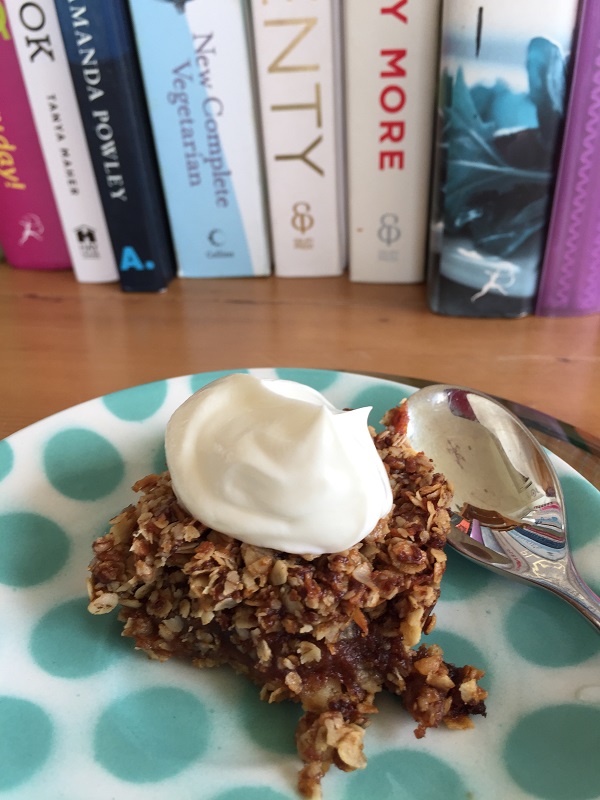 01 Oct

Date and apple oat slice (dairy free)

I made a simple flapjack mixture to sandwich the apple and date butter to make a delicious dessert, snack or breakfast. Oats are a slow releasing carbohydrate and provide us with lots of calming magnesium and soluble fibre. Serve with yoghurt as the tartness works beautifully with the sweetness of the apple and date butter. Use coconut oil and coconut yoghurt to serve if you are dairy free,

200g porridge oats
150g butter, melted or coconut oil, melted (if using syrup or honey you can cut the butter or coconut oil to 100g)
25g desiccated coconut
50g coconut palm sugar or 4 tbsp maple syrup or honey
Approx 200g apple and date butter (see previous recipe)
Add 1/8th tsp salt if using coconut oil

Oil and line a deep baking tin approx 22cm by 17cm. Leave some baking paper overlapping the tin so you can lift out the slice after cooking.
Preheat oven gas 5 or 190 C.
Place oats and coconut into a medium size bowl. Stir in the butter or coconut oil and add the sugar or syrup or honey. Stir to combine well.
Place half of the mixture into the tin and press down lightly and level.
Spoon over the apple and date butter, smoothing it carefully over the oat mix with the back of the spoon.
Sprinkle over the rest of the oat mix over the apple and date layer and press down lightly.
Place in the lower part of the oven for 30 minutes or until nicely browned.
Once cool enough to handle gently pick up the edges of the baking paper ad place on a cooling rack to cool completely.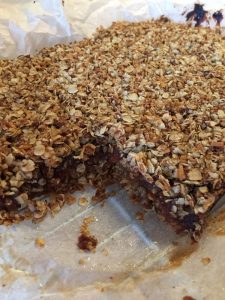 Cut into squares while the paper is still on as it is fragile and serve warm or cold with yoghurt.