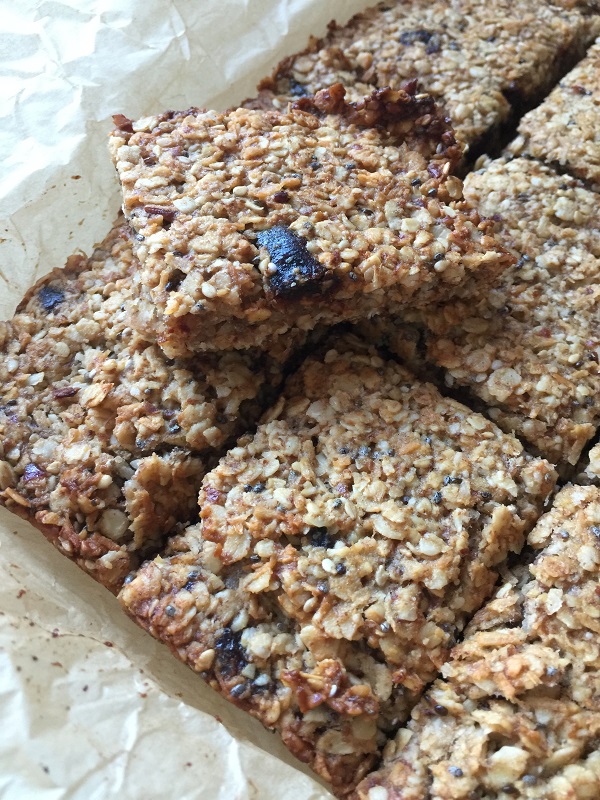 13 Jan

Date, walnut and banana flapjacks (vegan)

These  flapjacks are packed with soluble fibre and protein from the oats, seeds and nuts. Ripe bananas are high in antioxidants for a healthy immune system and make a great natural sweetener. Here I use brown rice syrup another great natural sweetener which has glue like properties when heated and helps to keep the flapjacks from crumbling!
Makes approx 12 good size flapjacks.

200g porridge oats
50g desiccated coconut
100g finely chopped walnuts or pecans
1 tbsp chia seeds
1 tbsp sesame seeds
2 medium very ripe bananas, mashed
50g chopped dates
100g melted coconut oil
100g brown rice syrup
1/4 tsp salt

Heat oven to gas 5 or 190c

Line a shallow baking tray approx 20cm by 34cm. Easiest way to line is take a large piece of baking/greaseproof paper and scrunch it up into a ball, then unfold and press into your tin – you can lightly grease tin first if you like.

Melt the coconut oil and the rice syrup together in a small pan, set aside.
In a large bowl place oats, dates, walnuts, salt, coconut and seeds. Mix well and make a well in the centre.
Add the mashed bananas and the melted oil/syrup and mix well.
Spoon and press into your prepared tin and level.
Bake for 35 minutes in centre of oven until nicely browned.
Allow to cool for 5 minutes in the tin and then cut into portions, lift out holding the paper and place on a cooling rack to finish cooling still in the paper.
Remove from the paper then store in an airtight container.

Should last for up to 5 days if they last that long!
Can be frozen.