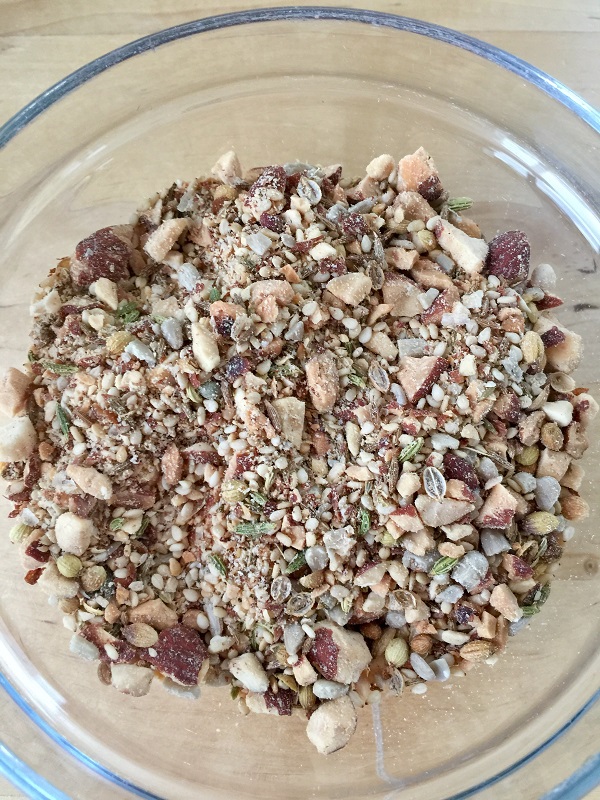 30 Aug

Dukkah (toasted nuts, seeds and spices)

Dukkah is a middle eastern condiment which sprinkled on soups, salads, stews anything really and imparts a delicious flavoursome crunchiness. There are lots of recipes on the internet and quantities of ingredients are sort of up to you and what your tastes are. I use a base of nuts and add in spices and seeds. Experiment to see what you like best.

Approx measures.
200g of hazelnuts or almonds
Toast separately for about 5 to 8 minutes gas 6 0r 200C until they smell delicious. Let them cool down.
Now toast in the oven 2 tbsp each coriander seeds, fennel seeds, cumin seed, and about 100g sesame seeds. You can also use sunflower or pumpkin seeds or a mix of all three. Five minutes is perfect, you want to get the delicious aromas but not too toasted. Allow to cool.

Put the nuts and seeds in your processor with 1 tsp salt and pulse till it looks like the picture so not ground.
Stir in 2 tbsp black sesame seeds if you can get them and check it is salty enough.
That's basically it, some recipes put in Chilli flakes and Thyme so it really is up to you!

Store in a glass jar when completely cold, none of my batches taste the exact same, which is the fun of it!