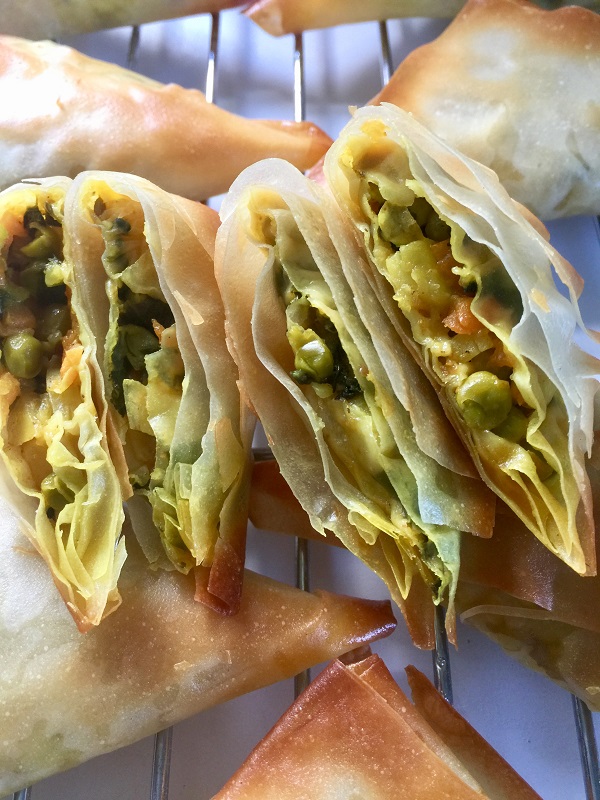 24 Feb

Filo pastry vegetarian samosas (vegan)

These are really simple way of making samosas if like me you aren't fond of making pastry. Delicious as a side to a curry dish or as a starter with some simple side salad and some mango chutney stirred into some yoghurt to dip into.
Makes approximately 12 to 14.

1 packet filo pastry
1 medium onion, finely chopped
150g frozen peas
1 medium/large carrot, finely chopped into small dice
250g small baby potatoes, leave peel on chopped into small dice
1 bag baby spinach
2 tsp punchipooran (mix of black mustard seed, cumin seed, fenugreek seed, fennel seed) or if you can't get this – its available in indian grocers, use 1 tsp cumin seed and 1 tsp black mustard seed
1 tsp mild chilli powder I use Kashmiri
1 tsp turmeric
1 tsp salt
1 tsp vegetable bouillon
2 large cloves garlic, crushed
1 tbsp finely grated ginger
2 tbsp lemon juice
2 tbsp light not cold pressed rapeseed oil or coconut oil

Defrost the filo pastry as per instructions on packet.
In a medium, frying pan with a lid, heat the rapeseed oil or coconut oil and add the punchipooran and let it sizzle for a few seconds.
Then add all the vegetables except the spinach and cook for a few minutes, then add the rest of the ingredients except the spinach. Stir for a few seconds to stop anything sticking, then add 200ml water and stir. Bring to the boil then turn down to a simmer for about 20 minutes with the lid on. Then take off the lid, add the spinach and let it simmer for a bit to drive off some moisture. Add 2 tbsp lemon juice. Let it cool a bit.
Unwrap the filo pastry onto a chopping board. With a knife, make a line down the middle of the length of the pastry. Using some kitchen scissors snip through the layers. Cover one half side with clingfilm to stop it drying out and with the other half side peel apart the layers and lay each one out on your counter top lengthwise.
Place some light rapeseed oil into a small bowl and with a pastry brush, brush on the oil in a thin layer the length of the pastry strips.
At the top of each strip place 2 tbsp of mixture and fold over into a triangle and then fold as a triangle first one way then the other all the way down the strip till you get to the bottom. Place on a greased baking sheet. Repeat with the other half of pastry strips. Brush some oil over the triangle parcels.
Bake in the oven on gas 5 or 190C in the middle of the oven for 15 /20 minutes or until nicely browned and crisp looking.