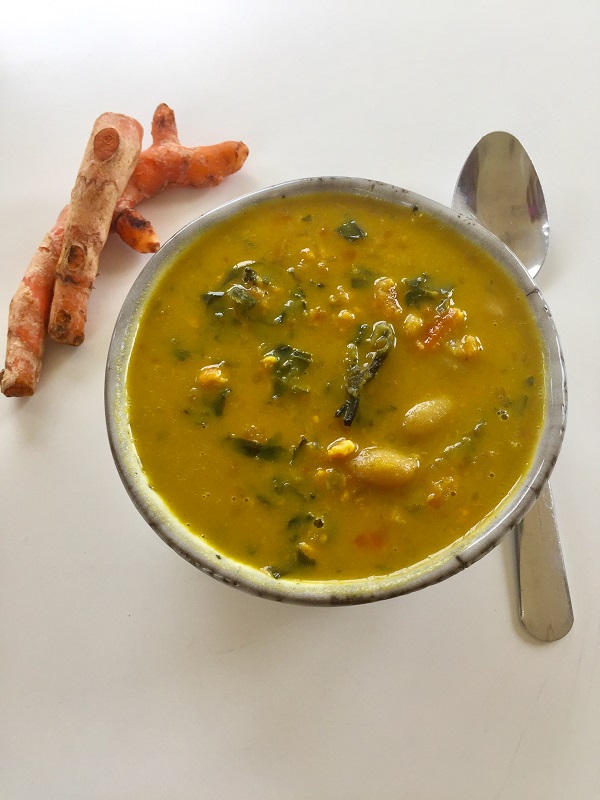 11 Oct

Fresh turmeric and vegetable soup with white beans

Fresh turmeric is much more available than it used to be, I got mine in Dunnes. Its brimming full of antioxidants to enhance our immune system. This is a very satisfying soup with Asian flavours. The beans add protein and keep you fuller for longer. Use organic veg if possible. I like to have some texture in the soup so by chopping the veg fine but not ground in a food processor you get a nice texture. Blending is of course an option for fussy eaters.

1 400g tin coconut milk – I use Thai Gold
1 400g tin white beans – cannellini. butterbean or haricot
1 finger of turmeric, scrubbed and roughly chopped
1 onion, roughly chopped
1 sweet potato peeled and roughly chopped
2 carrots, scrubbed and roughly chopped
2 sticks celery, roughly chopped
Handful of Kale finely shredded
1 inch ginger,  grated and finely chopped
2 cloves garlic, crushed
2 tsp cumin powder
1/2 tsp chilli flakes or to taste
1 tsp vegetable bouillon
1 – 2 tsp sea or Himalayan salt
2 tbsp coconut oil

Place all the vegetables except the kale into your food processor and process till everything is chopped very small.

Melt the coconut oil in a large saucepan with a lid and add the veg. Cook on a medium heat for a few minutes until it creates some steam, then add the garlic and ginger, spices, bouillon and salt. Cook for a minute stirring.

Add in the tin of beans and their water and the coconut milk. Add more water until you have a thick soup consistency.
Bring to the boil and turn down to a simmer and cook for 15 minutes.
Stir in the kale and check the seasoning cook for 5 more minutes and turn off the heat.
Serve with good bread or salad. It also goes well with brown rice as it is quite a substantial soup.