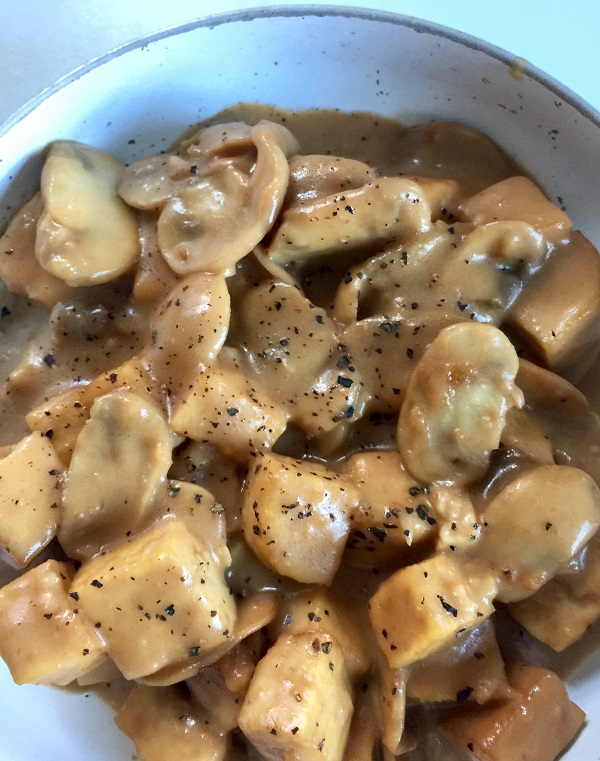 20 Feb

Fried mushrooms and tofu in coconut, garlic and peanut butter sauce

Finding ways to make tofu taste nice can be a challenge but this is a lovely dish, serve with noodles and stir fried vegetables. I was inspired to make this from looking at many of Meera Sodha's recipes.

Feel free to add half a bag of baby spinach in at the end and to add to the protein you could add a drained tin of chickpeas.

1 x 250g punnet of mushrooms, finely sliced
1 x pack tofu 200g, I like Taifun Feto fermented tofu or Tofoo is a good make, pressed between paper towel to remove water and cut into small dice
2 cloves garlic, crushed
2 tbsp shoyu or tamari
2 tbsp smooth or crunchy peanut butter
2 tbsp rice mirin
2 tbsp toasted sesame oil
1 tsp brown sugar
1 tin coconut milk cream only, Thai gold do a nice one
Light rapeseed oil or coconut oil for frying
1 tsp salt

First mix the peanut butter, garlic, shoyu, mirin and sesame oil together in a small bowl till you have a paste.
In a medium frying pan heat 2 tbsp oil and fry the tofu cubes till they are turning brown. Remove from the pan with a slotted spoon and set aside. In the same pan add 2 more tbsp oil and fry the mushrooms for a few minutes until they begin to turn brown.
Put the tofu back in the pan with the mushrooms and add in the paste and stir to coat and cook for five minutes on a medium heat stirring all the time. Then add in the coconut milk cream only, add some of the water if it needs thinning, salt and sugar and cook stirring all the time for a few minutes. It will thicken up especially as it cools.
Serve heated with noodles and vegetables and thin with more water if you like.