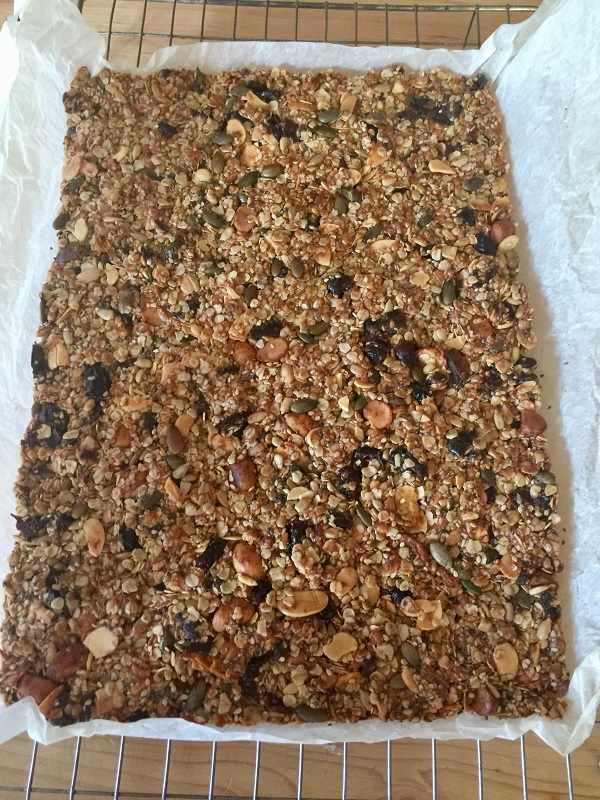 23 May

Fruit and seeded flapjacks

I make these when I am travelling as they are easy to transport and 10 times better than anything you will find in a service station or airport. They double up as breakfast or a snack and contain fibre rich oats, seeds that contain omega oils, protein and fibre, sweetened by brown rice syrup, a few dates and apricots and no refined sugar.

200g porridge oats
100g wholemeal flour
50g sesame seeds
50g pumpkin seeds
50g sunflower seeds
50g flaked almonds
3 tbsp chia seeds
100g dried dates, finely chopped
50g dried apricots, finely chopped or dried cranberries
150ml coconut oil
125 ml brown rice syrup  (wonderfully sticky to set them, maple syrup and honey don't work as well)
1/4 tsp himalayan or sea salt

Line a baking tin approx 30 x 22 cm with baking paper, let it come over the sides so you can lift out of the tin after it is cooked.
Mix all the dry ingredients together in a bowl.
Melt the coconut oil and brown rice syrup in a small saucepan ( Measure the syrup directly into your saucepan on your scales its less messy).
Mix the syrup and oil into the dry ingredients and mix well.
Spoon into your tin and press down firmly and level.
Bake for 30 minutes in the centre of the oven check after 25 minutes to make sure they aren't getting too browned.
Allow to cool in the tin for 5 minutes then lift out holding the paper and cool further on a cooling rack. Before they are completely cool slice into squares.
Store in a plastic or tin box with a lid for up to a week if they last that long.