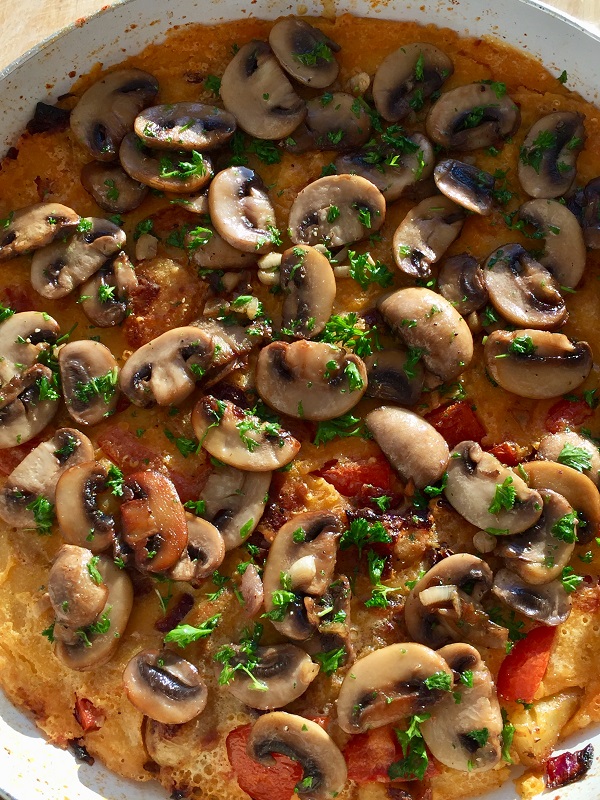 04 Jul

Gram flour potato, red onion and tomato pancake with smoked paprika topped with garlic mushrooms (Vegan)

This is a great alternative to a vegetable omelette made with eggs. Gram flour sets really well and as its made from chickpeas its full of lovely plant protein. The flavour of this pancake is like Patatas Bravas  which are delicious.

Serve with a green salad doused in my garlic cashew aioli see recipe in Dips.

100g Gram flour
200ml water
1 tsp vegetable bouillon

1 large red onion, chopped
6 small potatoes, cooked and chopped
1 large beef tomato, chopped into bite size pieces
1/2 to 1 tsp smoked paprika or to taste
2 tsp garlic powder
lots of grinds of sea or Himalayan salt and black pepper
olive oil to fry

1 punnet of mushrooms, sliced
2 tbsp olive oil and 30g butter if you're not vegan or 30g coconut oil
2 cloves garlic, finely chopped
Lots of grinds of black pepper and salt
2 tbsp chopped fresh parsley

Start by whisking the water and gram flour with the bouillon together and leave to rest.
You'll need two large frying pans for this.
In one pour in a good glug of oil, about 3 tbsp and heat then add the onion and fry on a medium heat until softened. Add the chopped potatoes and sprinkle on the paprika and garlic powder, Cook on a low to medium heat till the potatoes soften then add in the tomatoes and grind on the black pepper and salt. Cook on low turning every so often until everything is soft and squigy looking.
Pour over the gram flour mix and let it bubble away as it sets on a low heat. Once it is nearly firm place under a hot grill to firm up and lightly brown the top. Set aside.
Pour 2 tbsp olive oil and butter or coconut oil into the other pan on a medium heat and when hot add the mushrooms, Stir around and let them cook til they begin to brown. Add in the garlic and stir in making sure it doesn't catch and burn. Add a few grinds of salt and black pepper. Cook until lightly browned and  no moisture is left. Stir in 2 tbsp chopped parsley.
Sprinkle the mushrooms over the cooked pancake and serve hot or warm with salad and Cashew and garlic Aioli.