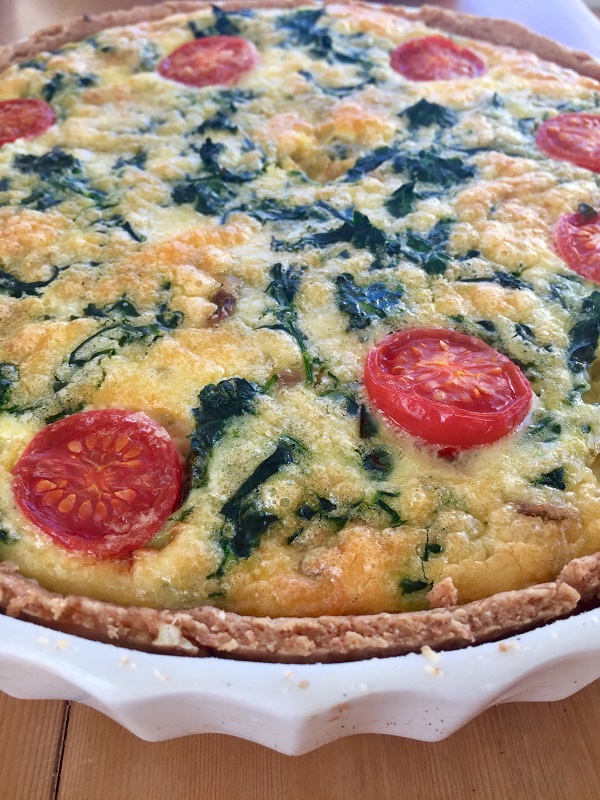 02 Jan

Leek, mushroom and spinach tart with cashel blue cheese

This was our lunch on New Years Day, very tasty tart with an egg custard base, delicious served with my coleslaw recipe (see salads) and roast baby potatoes. Cashel blue cheese is made with vegetarian rennet.

Pastry 
150g wholegrain spelt flour
50g ground almonds
75g butter
50g water
1/2 tsp salt

Preheat oven to gas 5 or 190C

Cut the butter into small cubes straight from the fridge. Put all the ingredients except the water into your food processor and process until it looks like fine breadcrumbs. With motor running, gradually add the water through the lid hole until it forms a ball. Let it rest for 10 minutes and then roll out to line a oiled round tart dish approx 23cm/10 inch. Prick the bottom of the tart case lightly with a fork. Bake blind for 10 minutes,  then leave aside.

Filling

1 small punnet of button mushrooms, finely sliced
1 bag baby spinach, washed and drained
2 leeks, washed and finely sliced
2 cloves garlic, crushed
1 tsp dried oregano
30g butter
2 tbsp olive oil
4 large eggs
150g milk of your choice
1 tsp salt
A few grinds of black pepper
100g cashel blue cheese
4 cherry tomatoes, halved for the top

In a large frying pan, heat the butter and the oil together and fry the leeks. After a couple of minutes add the mushrooms, oregano, salt and black pepper and garlic. Fry gently till they are slightly browning.
Tip into the pastry case and level.
Place the spinach into the same pan and fry till it wilts. Remove and place in a sieve. Squeeze out as much water as possible with the back of a spoon into a bowl. You can reserve the water and add to a soup. Chop on a chopping board and scatter over the mushroom and leeks.
Roughly chop the cheese into small chunks and scatter over the veg.
Crack the eggs into a jug and add the milk. Whisk and pour over the vegetables and cheese.
Pop the tomato halves on top and bake in the centre of the oven for 35 minutes or until nicely browned and set when you test it with a knife.
Leave to settle for 10 minutes before serving.