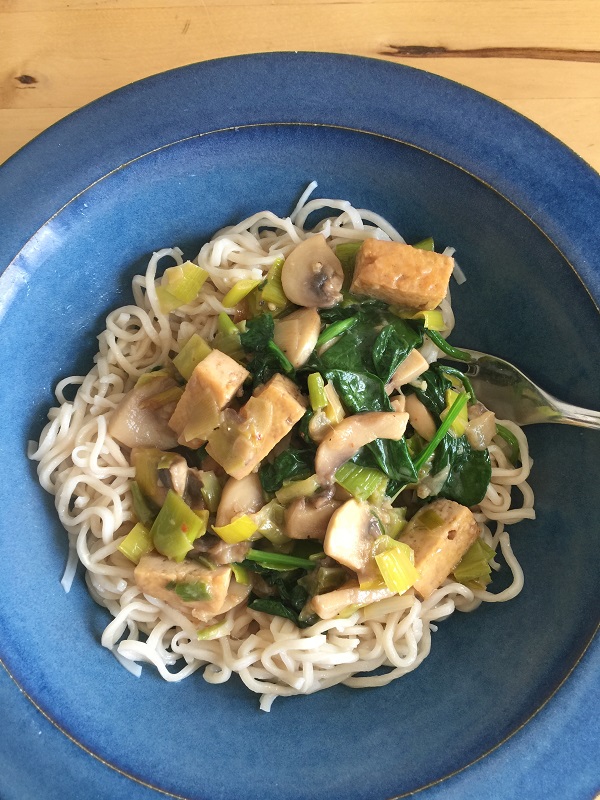 14 Jan

Leek and mushroom tofu Thai curry with spinach and spelt noodles

A really tasty vegan supper dish with fermented tofu which is easier on your digestion, but instead you can use a tin of drained chickpeas.

2 good size leeks, approx 250g after being trimmed and washed, sliced into bite size pieces
250g mushrooms, sliced
1 medium onion, finely chopped
200g Tofu, I use a fermented one called Feto Taifun from the Health food shop
1 tbsp finely grated ginger (place scrubbed root ginger in the freezer and when frozen grate on small grater side, always grate frozen)
2 good size garlic, crushed
1 tbsp maple syrup
2 tbsp toasted sesame oil
2 tbsp shoyu or tamari
1/4 tsp red chilli flakes
1 small tin 160g coconut milk (Thai Gold)
A few  grinds of black pepper and sea salt
1 or 2 spelt noodles sheets (I use Biona)
Coconut oil for frying
2 handfuls of shredded baby spinach

In a large deep frying pan, fry the onion in 2 tbsp coconut oil. Once it starts to brown add in the leeks and mushrooms and stirring often cook on medium heat for 10 minutes or until they are soft.
Open the packet of tofu and wrap in a few layers of paper towel and press to remove excess water, then chop into small dice.
In a separate pan, fry the tofu in 1 tbsp coconut oil until it starts to brown then take off the heat. Add into the pan the ginger, garlic, maple syrup, shoyu, red chilli flakes and sesame oil. Place back on a medium heat and let everything sizzle stirring often for 5 minutes then add the contents to the leek and mushrooms.
Add in the coconut cream, the spinach and grinds of pepper and salt, stir together and cook for a few minutes to mix everything together. taste to check the seasoning.
Turn off the heat while you cook the noodles.
Break up the sheets of noodles in a saucepan, boil the kettle and pour over the noodles and bring the water back to the boil and simmer for 6 minutes. Drain and add a teaspoon of coconut oil to keep separate.
Serve the curry on a bed of noodles.