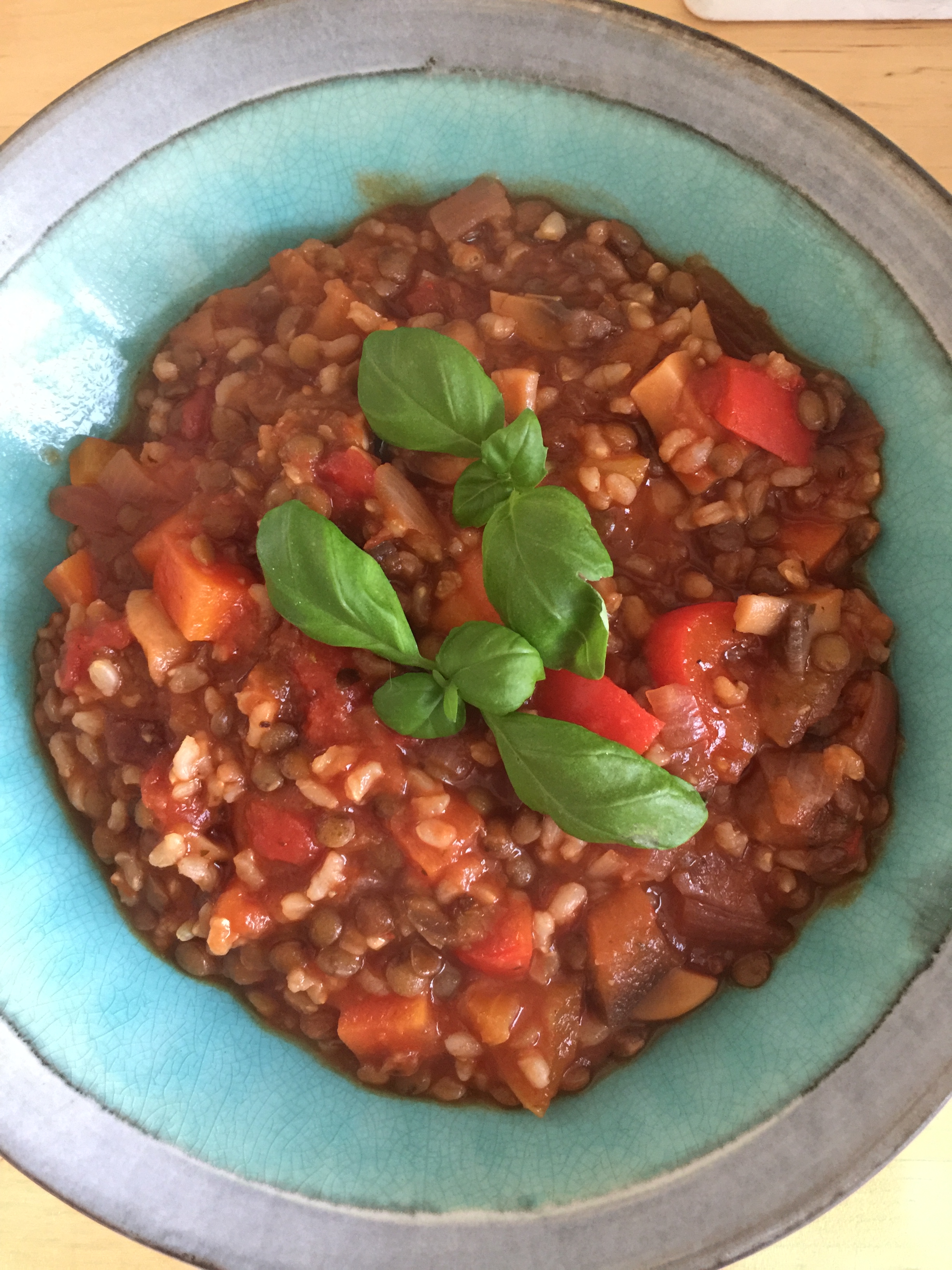 06 Jan

Lentil and brown rice bolognaise

1x 400g tin chopped tomatoes
100g short grain brown rice
100g puy lentils
1 medium red onion
1 medium carrot
1 stick celery
1 small sweet potato, peeled
½ red pepper, deseeded
½ orange pepper, deseeded
1 medium aubergine
1 punnet baby mushrooms, chopped in quarters
4 tbsp tomato paste
1 rounded  tsp dried oregano
1/2 tsp thyme
2 tsp vegetable bouillon
3 cloves garlic, crushed
4 tbsp olive oil
2 tsp brown sugar to counteract the acidity of the tomatoes
1 ½ tsp salt
Black pepper

First put the rice and lentils into a saucepan and add 400ml water. Bring to the boil then turn down to a simmer and cook for 30 minutes.
Chop the above vegetables into small dice. Heat the oil in a large deep frying pan or saucepan and on a medium heat add all the vegetables and stir to coat and let them cook for 8 to 10 minutes, with the lid on, stirring often.
Add the herbs and garlic, stir in and then add the tomato paste. Let it cook for a minute or two.
Then add the bouillon, sugar and tin of chopped tomatoes and fill the tin with water and add it.
Bring to the boil, turn down to a simmer and cook with lid on for 15/20 minutes.

Then add in the cooked lentils and rice and any water left and stir well. Let this cook on for another 15/20 minutes. Add the salt and a few grinds of black pepper.
Check the seasoning before serving.
Serve with pasta or mashed potatoes.  Also makes a great filling for a lasagne.