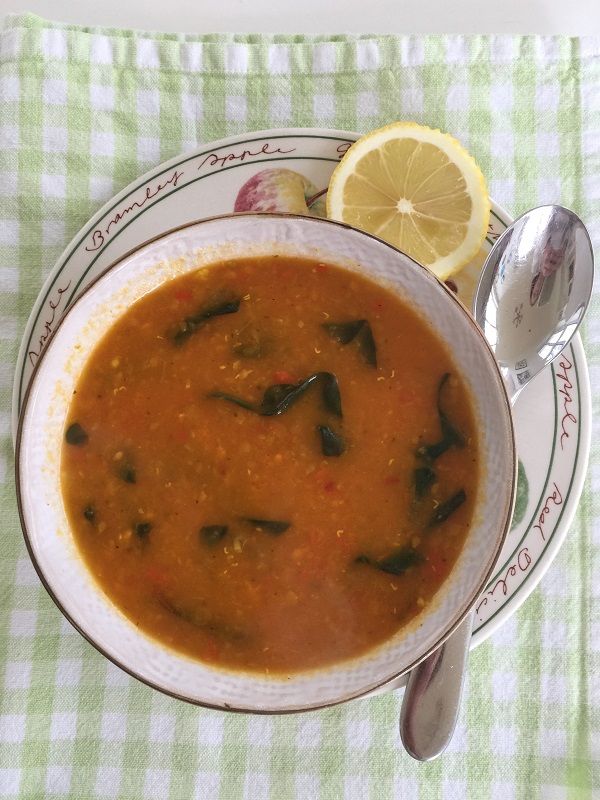 12 Feb

Lentil, lemon and tomato soup

It is so cold out today but this quick to make antioxidant rich soup warmed us up – the addition of lemon makes a nice fresh addition, lemon zest contains a potent antioxidant called Limonene. Red lentils contain protein, soluble fibre and the mineral silica which helps to strengthen skin, nails and hair. Tomatoes contain Lycopene another antioxidant which is stronger in cooked tomatoes. Turmeric is anti inflammatory, and a potent antioxidant. Oregano is also high in antioxidants.

100g red lentils
1 jar Bunlaun tomato and vegetable sauce (from Dunnes) or tin chopped tomatoes
1 onion, finely chopped
1 red pepper, finely chopped
1 large carrot, grated
1 small sweet potato. peeled and grated
2 handfuls of baby spinach
2 cloves garlic, crushed
1 tsp himalayan salt
2 tsp vegetable bouillon
1 tsp oregano
1 tsp turmeric
Zest of 1 lemon, juice of 1/2
1-2 tsp brown sugar (to balance the acidity of the tomatoes)
2 tbsp olive oil

In a large saucepan, fry the onion and red pepper in the olive oil until soft.
Add the grated carrot and sweet potato, oregano, garlic, turmeric, and cook for a few seconds. Then add the jar or tin of tomatoes, plus 1 jar or tin of water, lentils, bouillon, salt and sugar.
Bring to the boil and turn down to a simmer with the lid on for 25 minutes till everything is cooked.
Add the lemon zest and juice, stir in the spinach and check the seasoning. Cook for another 5 minutes. Add more water if it is too thick.