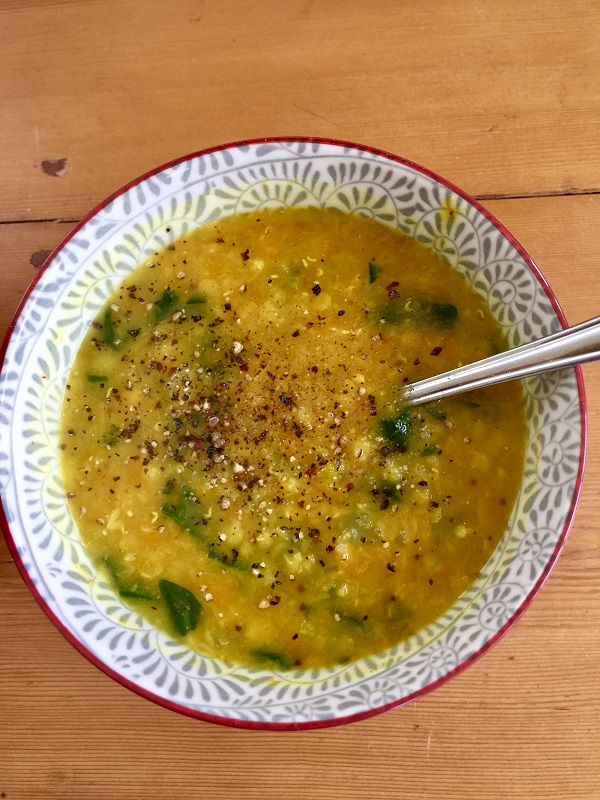 21 Jan

Lentil and chickpea dal with lemon and spinach

A delicious soup for a cold wet January day. Red lentils are mildly spiced with cumin and turmeric, which add antioxidants to your diet, protein from the lentils and chickpeas and lemon for flavour and vitamin C topped off with iron rich spinach.

250g red lentils
1 x 400g tin chickpeas in unsalted water
1 white onion, finely chopped
1 leek, very finely sliced
1 medium sweet potato, peeled and finely diced
1/2 bag baby spinach, finely shredded
2 clove garlic, crushed
1 tsp Punchiporan
1 heaped tsp cumin powder
1 tsp turmeric powder
2 tsp vegetable bouillon
zest of 1/2 lemon
1 tsp salt

2 tbsp coconut oil or light rapeseed oil

Heat the oil in a large pan with a lid. Add the onions, cook for a few minutes then add the Punchiporan, let that sizzle for a few seconds then add the leeks and sweet potato. Let them cook for a minute or two, creating some steam.
Add the garlic, cumin, turmeric and bouillon. Stir in and cook for a minute then add the lentils, chickpeas with the water then  fill the can twice and add.
Bring to the boil and simmer for 20 minutes or until the lentils have swollen and gone a bit mushy. Add more water if too thick.
Stir in the salt then add the spinach and let it wilt into the soup, grate in the lemon zest from one side of the lemon reserving the rest for garnish, and a few grinds of black pepper.

Check the seasoning and serve with a fine grating of lemon on each bowl.