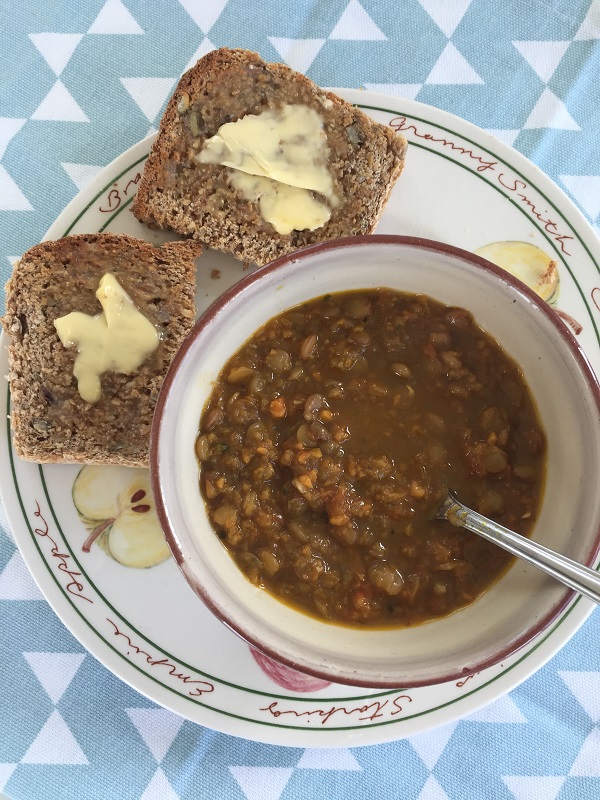 03 Feb

Lentil and vegetable soup

A simple and quick soup – use any type of lentils except red ones as the soup has a lovely texture due to the lentils staying more or less whole. Red lentils are perfect for soups and stews where you want a background sauce as they break up completely.
I used large green lentils which when cooked look brown! Lentils are a wonderful source of soluble fibre, protein and B vitamins.

150g lentils
2 carrots, grated
1 sweet potato, peeled and grated
1 onion, finely chopped
2 cloves garlic, crushed
1 tsp turmeric powder
1 tsp cumin powder
1 tsp sea or himalyan salt
1 tsp vegetable bouillon
2 tbsp shoyu (rich soya sauce)

Put all the vegetables into a saucepan with 2 tbsp olive oil and fry till soft, then add the spices and garlic and cook for a minute. Add the lentils and about 800ml water and the shoyu and salt.
Bring to the boil and simmer till the lentils are soft – probably about 35 minutes. Add more water if it is too thick.
Stir in finely chopped spinach or kale at the end (optional).

Serve with good wholemeal bread toast with butter (optional).