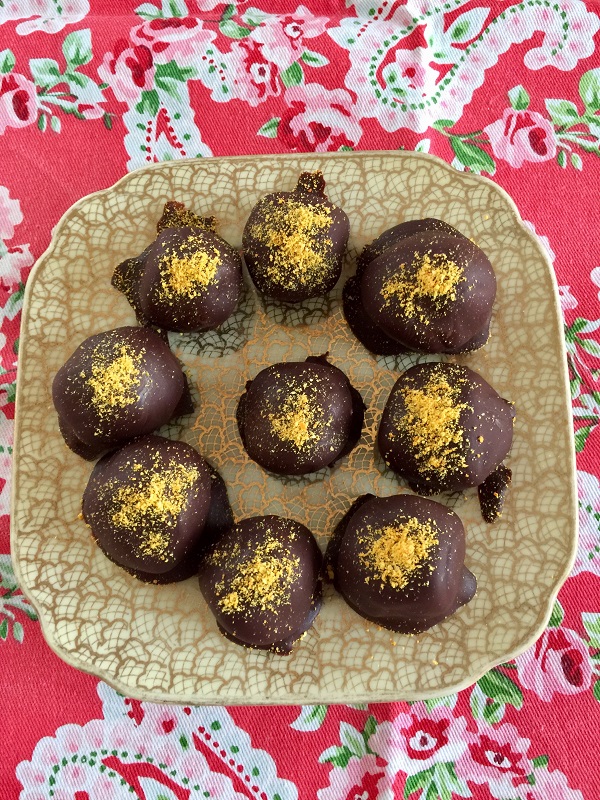 03 Dec

Marzipan chocolates (vegan)

These make a delicious after dinner treat or an anytime treat, if you like marzipan you'll love these. Almonds give us protein, good oils and fibre, dark chocolate gives us antioxidants for a healthy immune system, B vitamins and magnesium and is heart healthy.

1/2 quantity of my marzipan – recipe under cakes and muffins
100g dark chocolate 70% cocoa
1 tbsp coconut oil
A few sprinkles of my clementine dust (recipe under desserts) optional, or a few slivers of toasted almonds

Break the marzipan into 10 pieces and roll into rounds.
Place on a small board on a sheet of kitchen parchment paper and pop in the freezer for a few minutes.
Melt the chocolate and coconut oil in a small bowl over a small pan of hot water.
Take the marzipan balls out of the freezer and using 2 teaspoons immerse them in the chocolate and carefully place back on the paper and pop into the freezer again for a few minutes. Repeat the process once or twice more to ensure a good layer of chocolate around them.

Sprinkle on the clementine dust just after the last coating so it sticks to the chocolate if using. Or you could press on  a few slivers of toasted almonds. Store in the fridge.