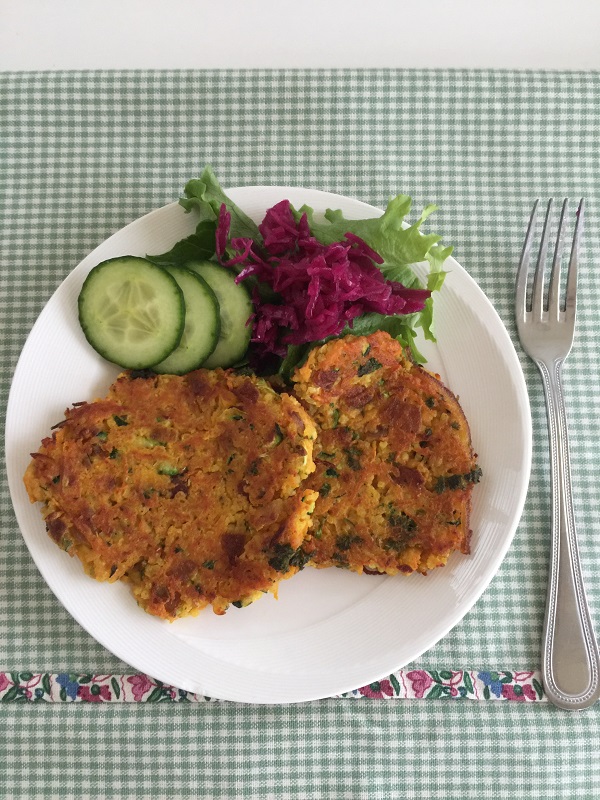 15 Feb

Millet and Vegetable Latkes (Vegan)

Latkes are like a pancake or fritter and are traditionally served at the Jewish festival of Hanukkah. They are often made from grated potato but can be made from any grated root vegetables. I have added some cooked millet and used gram flour to bind but traditional recipes use eggs. Millet is actually a seed but known as a grain. It's vibrant yellow colour is very attractive on the plate and indicates high antioxidant content, as it is a  seed it contains good amounts of  protein. It cooks up fluffy a bit like rice.  It is alkaline, making it very digestible and good for those on a restricted diet because of allergies. It acts as a prebiotic feeding the good bacteria in your gut. The veg I've used here contains lots of beta carotene, fibre and vitamins. Gram flour is ground chickpeas which are high in protein and fibre and minerals like magnesium.

100g millet
200g water
1 tsp vegetable bouillon

1 medium carrot, grated
150g butternut squash, peeled and grated
1 small sweet potato, peeled and grated
1 red onion, halved and finely sliced
2 tsp himalyan or sea salt

1 onion, finely chopped
2 cloves garlic, crushed
1 tsp turmeric
1 tsp sweet paprika

1 tbsp coconut oil

150g gram flour
150ml water

coconut oil to fry

Place the millet in a small saucepan with the water and bouillon. Bring to the boil, turn down to a simmer and cook for approx 20 minutes until all the water is absorbed. Fluff up with a fork and set aside to cool.

Put all the grated veg and sliced onion into a large bowl and sprinkle on the salt and mix well.

In a small frying pan, heat a tbsp coconut oil and fry the chopped onion for 5 minutes or until it starts to colour. Add the garlic, turmeric and paprika and stir and cook for 30 seconds, then remove from heat.

In a bowl, whisk the water into the gram flour a little at a time until you have a smooth thick batter – you might not need all the water.

Mix the batter with the onion spice mix into the vegetables. Stir in the millet and mix well.

Heat approx 2 tbsp coconut oil in a  frying pan and when hot, using a dessertspoon, spoon in some mixture and form into fritters about 1/2 inch thick. Cook for 5 minutes on each side until golden brown.
Place on kitchen towel on a cooling rack when ready.
These are best cooked just before serving or can be cooked previously and reheated in a little oil on the pan.
Serve with salad or as an accompaniment to a bean stew.

Can be frozen.