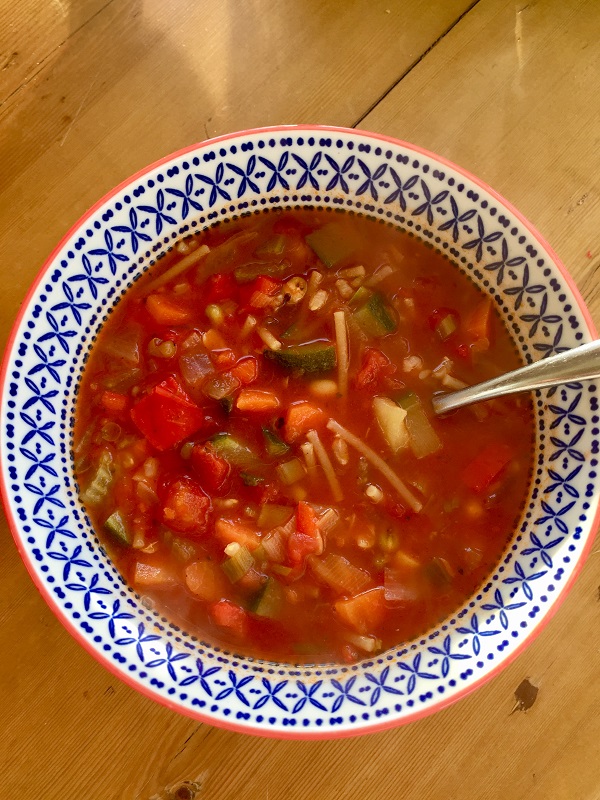 15 Jan

Minestrone soup with rice, beans and pasta (Vegan)

On such a cold windy day as today this soup ticks all the boxes. Lots of vegetables and tomato sauce for antioxidants and some brown rice, beans and pasta to bulk it out, it is nearly a meal in itself. The beans provide protein and if you don't need it to be vegan a sprinkle of parmesan cheese is nice too.

Serves approx 8

1 x 400g tin haricot beans
60g short grain brown rice
50g wholemeal spaghetti, broken up into short pieces
2 x 350g jars of Bunlaun vegetable and tomato sauce or one 600g jar of passata
1 red onion, finely chopped
2 sticks celery, finely chopped
1 leek, trimmed and finely sliced
1 red pepper, finely chopped
2 carrots, finely chopped
1 courgette, finely chopped
2 cloves garlic, crushed
1 tsp dried oregano
2 tsp vegetable bouillon
1 tsp salt
2 tsp brown sugar, to counteract the acidity of the tomatoes
2 tbsp olive oil

Place all the vegetables into a large saucepan, add the oil, stir and heat until you create some steam.
Add the garlic, oregano and rice and cook on a low heat with the lid on for 5 minutes.
Add the beans plus the water in the tin, the tomato sauce or passata, wash out the jar(s)and add approx 800g of water. Bring to the boil and turn down to a simmer. Stir in the salt, bouillon and sugar.
Cook for about 25 minutes until the rice is cooked. Add the spaghetti and cook for 10 more minutes, and if it is too thick, add some more water and check the seasoning.

It will thicken as it cools. Just add more water and adjust the seasoning as necessary.