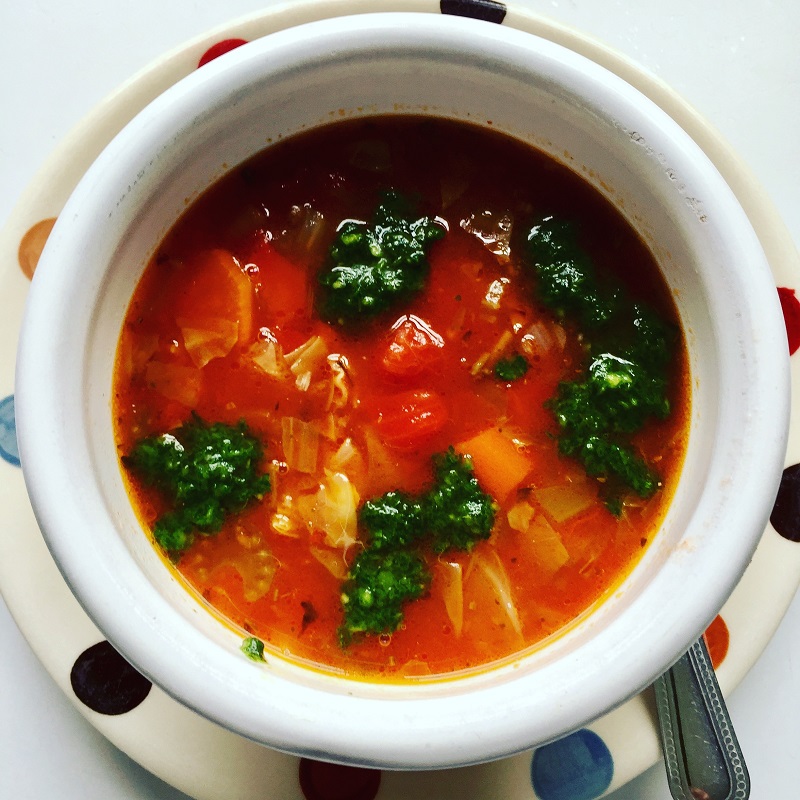 16 Jan

Minestrone soup with basil and olive oil drizzle (vegan)

This colourful soup ticks all the boxes on a dull early spring day – it contains protein in the form of beans, low GL carbohydrate from the pasta, and lots of antioxidants from the colourful vegetables, plus lots of fibre.
Basil is full of folic acid, vit C  and iron and is antiseptic. This is delicious drizzled over this soup or dips or salads.

1x 400g tin haricot beans or canellini beans, in unsalted water
1 jar of Bunlaun tomato and vegetable sauce or a 400g tin chopped tomatoes
2 tbsp tomato puree/paste
2 cloves garlic, crushed
1 tsp oregano
1/2 tsp thyme
1 bayleaf
1 tsp sweet paprika
2 tsp salt
2 tsp vegetable bouillon
2 tsp brown sugar (to temper the acidity of the tomatoes)
1 red onion, finely chopped
1 leek, finely chopped
2 sticks celery, finely chopped
2 carrots, finely chopped
1/2 red and 1/2 orange pepper, finely chopped
1/4 savoy cabbage, finely chopped
3 handfuls of baby spinach
50g wholegrain spaghetti broken into 2 inch pieces
2 tbsp olive oil

Heat the oil in a large saucepan, add all the veg and cook on a medium/high heat to create some steam for a few minutes.
Add the tomato puree, garlic, herbs, bayleaf, salt, bouillon, paprika and sugar. Stir and cook for a few seconds then add the beans plus their water plus a tin of water, then the tomato sauce with 2 jars of water.
Bring to the boil and then add the spaghetti, turn down to a simmer and cook for another 15/20 minutes until everything is cooked. Stir in the spinach and let it wilt into the soup.
Taste and add more salt if necessary.

Basil Olive oil drizzle

1 basil plant, strip leaves and use young stalks
1 clove garlic
1/2 tsp sea salt
4 tbsp extra virgin olive oil

Place all ingredients into your food processor and blitz for a minute. Serve on top of the soup adding blobs with a teaspoon. Store in a glass jar in the fridge for up to 5 days. Use as you would pesto on salads, dips etc.