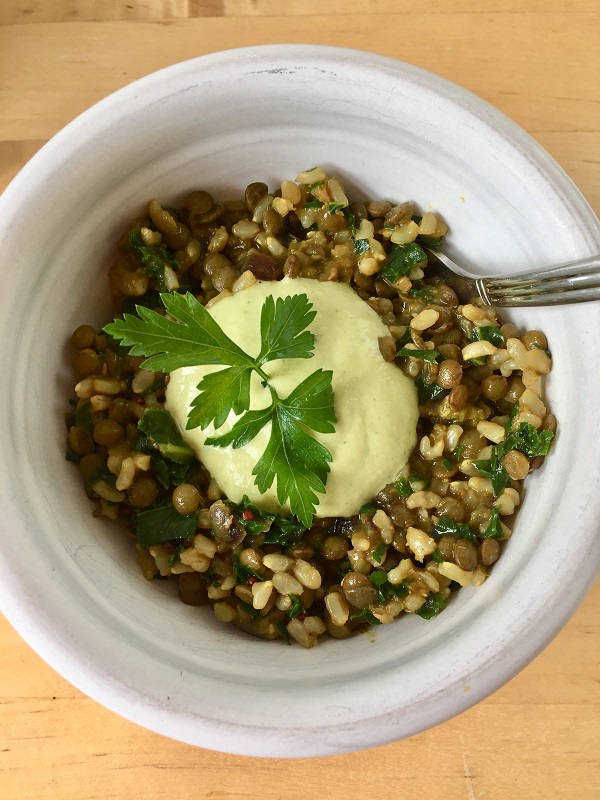 09 Sep

Mujadara with Kale topped with chickpea, tahini and parsley sauce

A slight variation on the other Mujadara recipe I have on this website without the fried onions and basically a quicker version. I've served it with a delicious sauce but it is equally good with hummus or yoghurt. Wonderful protein and fibre from the lentils and rice and plenty of antioxidants and folic acid in the kale. If you serve it with the sauce you are adding more protein from the chickpeas and calcium from the tahini.

150g green lentils
150g short grain brown rice
600ml water
1 medium red onion, finely chopped
2 tsp cumin powder
1 tsp coriander powder
1 tsp curry powder
1 tsp turmeric
1 tsp black mustard seeds
2 cloves garlic, crushed
2 tbsp shoyu (aged soya sauce)
1/2 tsp salt
1 tsp vegetable bouillon
2 large handfuls of kale lightly steamed and chopped

Place the rice and the lentils into a large saucepan and add the water and the bouillon. Bring to the boil and turn down to a simmer with the lid on and cook for 40 minutes – it should use up all the water.
Meanwhile fry the onion in a medium size frying pan, in 2 tbsp rapeseed or olive oil. When it is soft, add in the cumin, coriander, black mustard seeds, turmeric, crushed garlic, salt. Stir and fry for about 5 minutes on a low heat then stir in the shoyu.

Stir this onion mixture into the lentil and rice and fold in the kale. Check the seasoning.

Chickpea parsley and tahini sauce

1 tin unsalted chickpeas, drained, keep the water
2 tbsp light tahini
2 tbsp extra virgin olive oil
1 good size clove garlic, sliced
Handful of fresh parsley, rinsed and dried
1 tsp salt

Place everything in your food processor  with about 5 tbsp water from the chickpeas. Process for a minute or two till you have a smooth puree. Add more water if you need to.
Serve with the Mujadara.