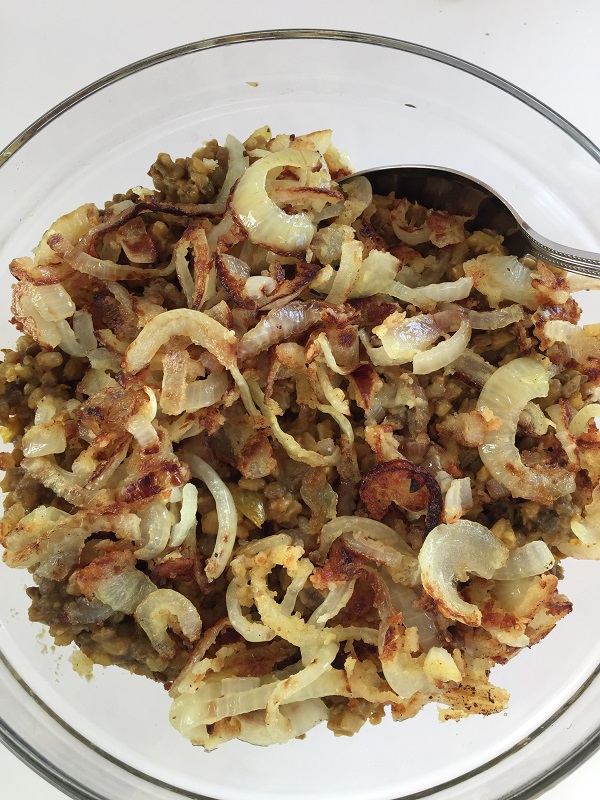 14 Sep

Mujadara – spiced lentil and rice dish with chickpeas, mushrooms and spinach, topped with fried onions

This is my version of this Middle Eastern dish. It is simple to make and a great accompaniment to a salad or curry or serve with hummus and pita bread. Its full of protein and fibre from the lentils and chickpeas and fibre and B vitamins courtesy of the brown rice. Simply spiced with garlic, cumin and curry powder and lots of garlic.

150 g brown rice, rinsed
150 g Puy lentils, rinsed
1 x 400 g tin drained chickpeas
600 g water or more if needed
4 white /yellow onions, one finely chopped, the others sliced into thin half moons
2 tsp cumin
1 tsp curry powder
1 tsp turmeric
2 large cloves garlic
2 tsp salt
1 tsp bouillon
2 tbsp regular white or wholemeal flour or if necessary gluten free
1 tbsp shoyu or tamari (aged soya sauce and much stronger in taste )
Coconut oil for cooking

120g bag baby spinach
1 punnet of button mushrooms, finely chopped

Place the rice and lentils together in a medium saucepan and add the water. Bring to the boil and turn down to a simmer and cook till all the water is absorbed. Watch that it doesn't boil dry. This should take approx 40 minutes. Set aside.

Slice 3 of the onions into thin half moons. Separate into single strands place in a bowl and sprinkle a tsp of salt and leave for 15 minutes. This will help them to soften and release moisture.
Finely chop the last onion, heat 2 tbsp oil in a large frying pan and fry with the mushrooms for a few minutes to soften and lightly brown.

Add the chickpeas and cook for a couple minutes then all the spices, garlic and a tsp salt.  Fry for a few more minutes until everything is soft.
Stir in the shoyu or tamari and the spinach  and let it wilt in the heat of the mix.
Stir the lentils and rice into this mix. Keep in a warm place.

Lay out some kitchen paper and in a single layer lay out the onion and roll up in the paper to catch any moisture.
Place back into the bowl – wipe out the bowl if there is any moisture. Sprinkle on the flour and mix so the onion is coated.
Heat 2 tbsp oil in the pan and place a piece of onion into it. When it starts to sizzle add the rest of the onion – do this in 2 batches if it is too much at once as it fries better in a single layer. Cook on a medium heat and turn frequently so every bit gets browned.
Drain on kitchen paper when it is nicely browned.
Place the lentil mixture into a shallow serving dish and sprinkle the fried onions over the top. Serve.