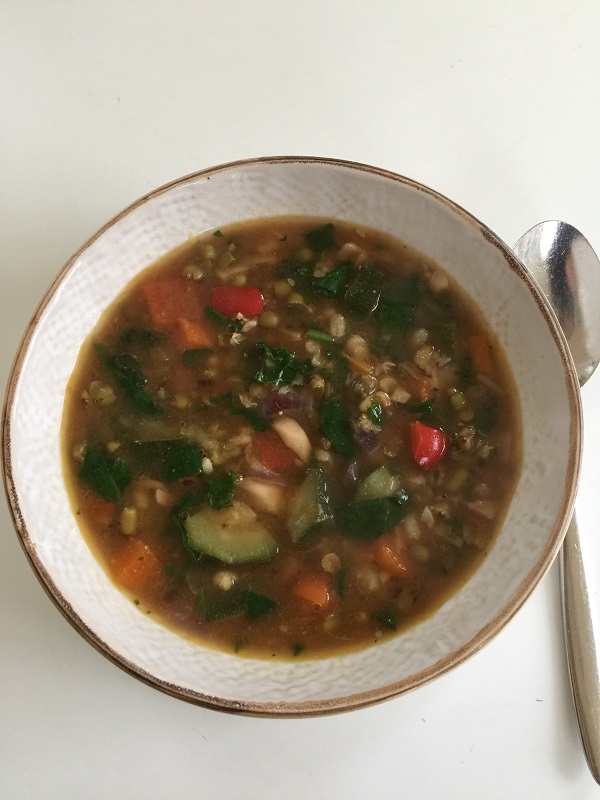 26 Jan

Mung bean, barley and vegetable broth with Miso and kale (vegan)

Mung beans are very easy to cook – no need to soak as they cook quite quickly. They are a powerhouse of goodness, containing protein, soluble fibre, B vitamins especially folic acid and are very alkalising.
Miso is a paste made from fermented soya beans and often combined with barley or brown rice, either type are good in this recipe. It is delicious in this soup and is also protein rich and good for your gut with its live enzymes. It doesn't like too much heat so I add it at the end of cooking this soup and when reheating the soup, I'm careful not to let it boil.

100g dried mung beans, rinsed
2 tbsp pearl barley
2 carrots,diced
1 red onion, finely diced
1 leek, diced
1 courgette, diced
8 mushrooms, chopped finely
2 cloves garlic, crushed
2 inch piece ginger, grated and very finely chopped
2 tsp vegetable bouillon
1 tsp salt
3 tbsp brown miso
3 handfuls of finely chopped kale or spinach or both
1 litre of water or more
2 tbsp olive oil

In a large saucepan, add the oil and all the vegetables except the kale or spinach. Put the lid on and cook for 5/10 minutes creating some steam and shaking the pan occasionally.
Add the mung beans, barley, garlic, ginger, veg bouillon and salt and stir together and cook for a couple of minutes. Add the water and bring to the boil and turn down to a simmer for 25 to 30 minutes until beans and barley are cooked and soft. Add more water as necessary
Stir in the kale/spinach.
Put the miso in a small bowl. Add a little liquid from the broth to mix to a loose paste, then stir into the broth.
Serve with good wholegrain bread.