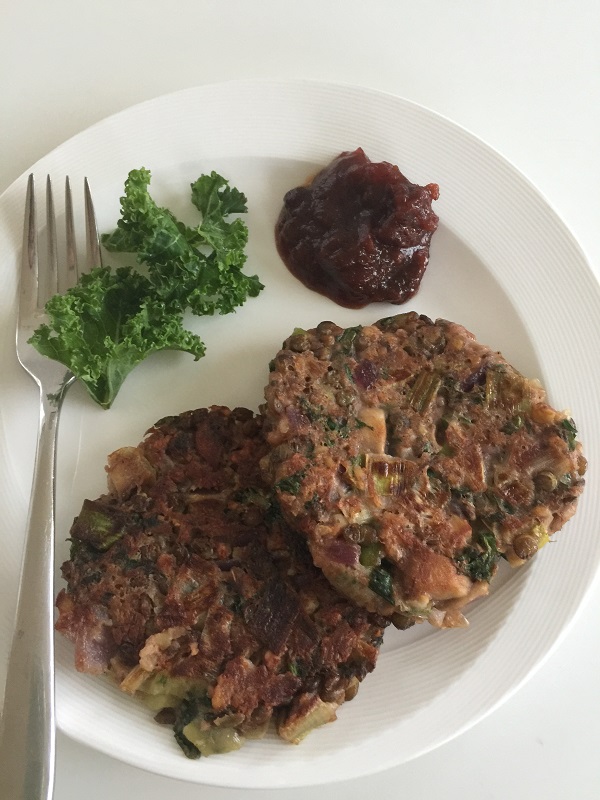 11 Jan

Mushroom, leek, walnut and lentil burgers with kale (dairy free)

These burgers are perfect for lunch or lunchboxes served with a salad. Protein packed with the lentils, walnuts and eggs and lots of vegetables for vitamins and minerals and fibre too.

100g lentils, brown, green or puy (not red)  + 200ml water
1 leek, trimmed and finely chopped
1 small red onion, finely chopped
150g mushrooms, finely chopped
handful of kale, finely shredded
2 cloves garlic, crushed
2 tbsp olive oil
1 tsp dried oregano
1/2 tsp dried thyme
1 tbsp shoyu
3 tbsp spelt wholegrain flour
50g piece wholemeal bread
50g walnuts
2 large eggs, beaten
1 tsp himalayan salt or sea salt
Good grind of black pepper
extra oil for frying

Place the lentils and water in a saucepan and bring to the boil, then turn down to a simmer and put the lid on for 30 minutes or until all the water has been absorbed.
Heat the 2 tbsp oil in a large frying pan and add the leek, onion, kale and mushrooms, cook for a few minutes then add the herbs and garlic, and salt and pepper and cook for another few minutes.
In your food processor, add the slice of bread and walnuts and process/ pulse till finely broken up but not ground.
Place in a bowl with the flour, add the veg mix then once the lentils are cooked, cool a little and roughly mash them with a fork and add to the mix with the egg and shoyu. Mix well.
Heat a couple tbsp olive oil in the large frying pan and spoon in a heaped tablespoonful of the mix and shape into a burger shape. Fry for 5 minutes on each side turning over very gently until nicely browned. Try to avoid turning too often as they are a bit fragile.
Place on kitchen paper to soak up any extra oil.
Can be frozen once cool. Best way is to open freeze them, spread out on a plate then put into a freezer bag or box.

For a vegan version leave out eggs and add the mixture to your food processor to mince and release more moisture then shape with floured hands, dip lightly in some more flour and fry as above but when frying be extra careful as they are more likely to break up.