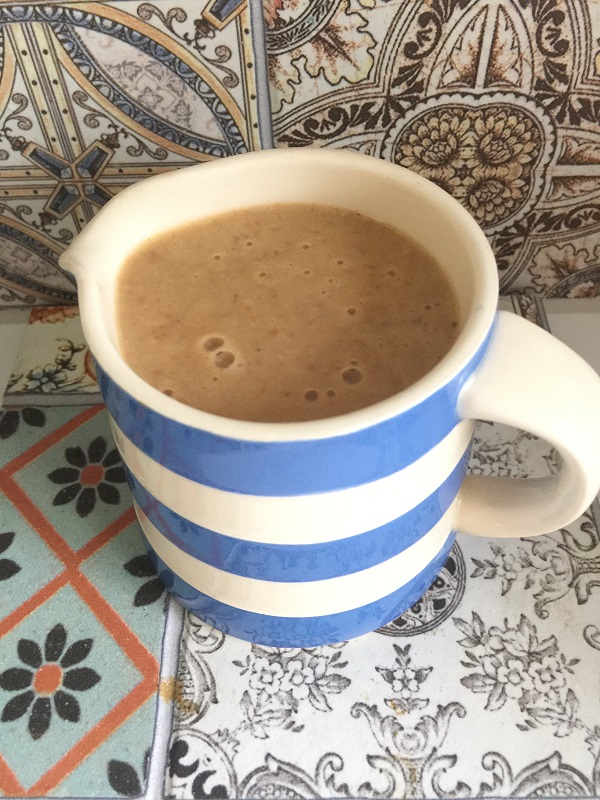 25 Jan

Mushroom and onion gravy

A simple and delicious gravy to accompany mashed potatoes, nut roast or roast or steamed vegetables.

150g mushrooms, chopped
1 large onion, peeled and chopped small
2 tbsp rapeseed or olive oil
30g butter or coconut oil
3 heaped tbsp wholemeal flour
1 large clove garlic, crushed
1/2 tsp mixed herbs
1 tsp vegetable bouillon
1 tsp salt
3 tbsp shoyu or tamari in 400ml water

Fry the mushrooms and onion in a medium saucepan in the oil and butter or coconut oil until soft with lid on.
Add the herbs and garlic, fry for a minute then stir in the flour and cook for a few minutes to cook in the flour. Start adding in the shoyu/water gradually mixing it in on a medium heat until its all incorporated. Simmer on a low heat for 10 minutes then add the bouillon and salt and then liquidise with a hand held blender till smooth. Check the seasoning and serve. It will get thicker as it sits so just add a little water to get the right consistency.