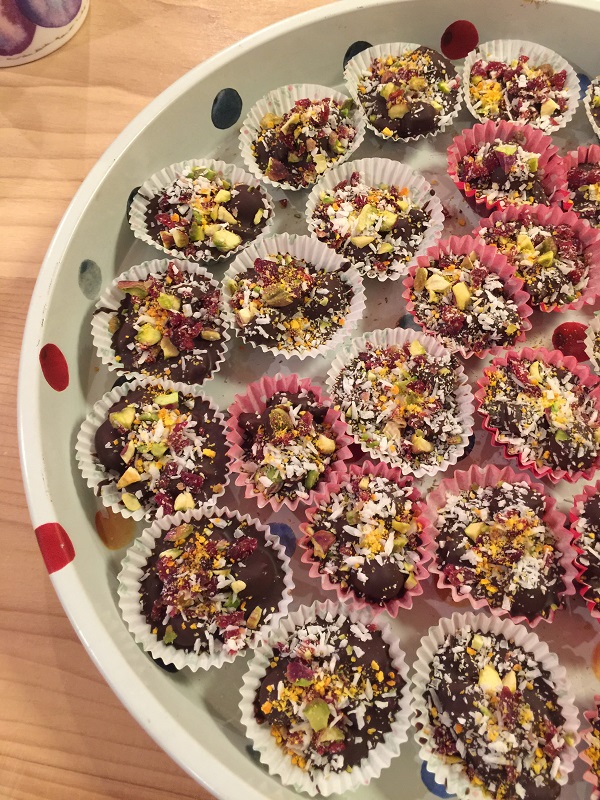 18 Dec

Hazelnut and toasted coconut chocolates with toppings of pistachio, cranberry and clementine dust

These make great presents at Christmas time or personal chocolate treats. To make this really simple I am melting bought chocolate.
You'll need some small festive paper cases or silicon cases.
Clementine dust is finely ground dried peel – it contains all the oils so makes a wonderfully fragrant topping dusted over chocolates and cakes or use instead of zest in cakes etc.

200g good 70% dark chocolate
50g hazelnuts, toasted and skins rubbed off and crushed with a rolling pin
30g chopped dried cranberries
2 tbsp toasted flaked coconut
3 tbsp coconut oil

Toppings
2 tbsp desiccated coconut
15g dried cranberries, finely chopped
15g raw pistachio nuts, finely chopped
Clementine dust (see recipe below)

Melt the chocolate and coconut oil in a bowl over a saucepan of hot water making sure the water doesn't touch the chocolate.
When it is melted mix in the hazelnuts, cranberries and coconut.
Spoon a teaspoonful or two into each festive paper case or silicon case.
Place in the fridge for 5 minutes then take out.
Mix the first 3 toppings together and sprinkle some on each chocolate.
Then sprinkle on some clementine dust and return to the fridge to harden.

To make the clementine dust
Wash then peel approx 9 small organic clementines (they need to have very thin skin so don't use satsumas as the skin is too thick)
Place the skin or peel somewhere it can dry out – the back of a range, above a stove, on a radiator.
Once it is very dry and brittle – this could take a couple of days depending where you are drying the peel. You can also place on a tray in the oven on the lowest setting until brittle and dry or dehydrate if you have a dehydrator.
Then place the peel into a powerful food processor or a coffee grinder and grind up till very finely chopped.

Store in a glass jar. You can also do this with organic oranges if you peel them with a potato peeler to leave behind most of the pith.