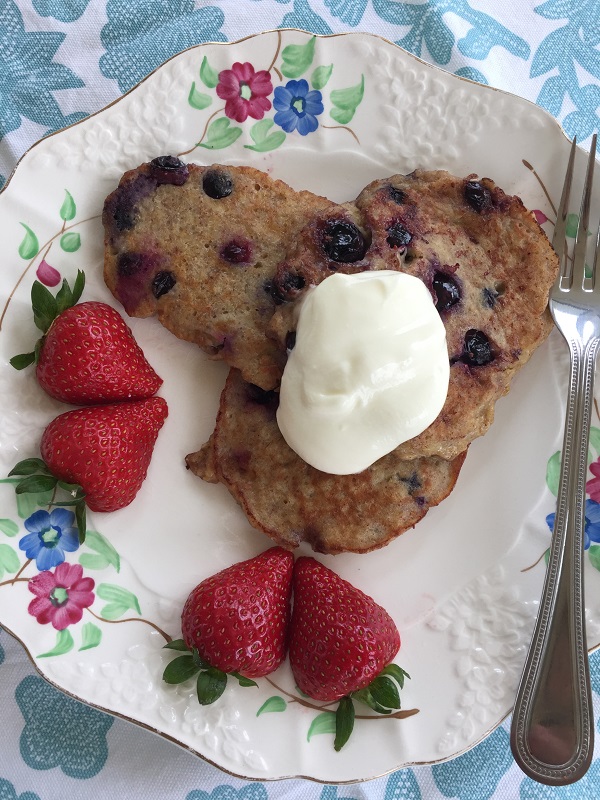 06 May

Oat and nut butter pancakes with blueberries

Simple to make these are filling and delicious and make a great weekend breakfast. Oats contain magnesium for relaxing muscles and help to lower cholesterol, nut butters provide protein along with the egg, the banana adds natural sweetness and potassium and blueberries are high in antioxidants for a healthy immune system.
Serves 1 or 2 people depending on how hungry you are or double the recipe.

1 large egg
1 small to medium ripe banana
3 heaped tbsp porridge oats
1 tbsp nut butter
handful of blueberries
Strawberries and other fruit to serve
Yoghurt to serve (coconut or cows)

Beat the egg, roughly smash up the banana with a fork and stir into egg, add the oats and nut butter and stir well and then fold in the blueberries gently.
Heat a tsp coconut oil in a small frying pan and when hot spoon in the mixture – a heaped tablespoon makes a decent size small pancake – easier to cook in a small pan one at a time as they are a little tricky to turn over so small is better.

Serve with yogurt and sliced fruits and a drizzle of maple syrup if desired.