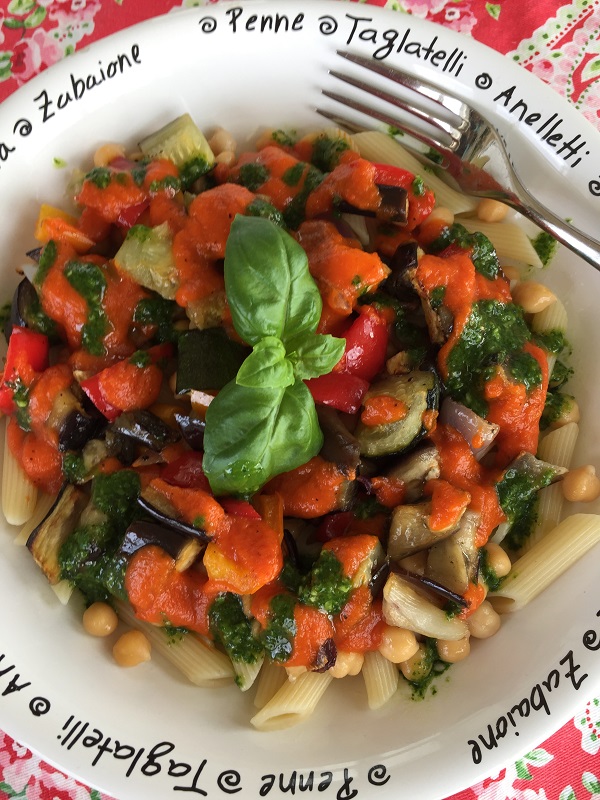 23 Mar

Pasta and chickpeas with roast veg, red pepper and tomato sauce and basil drizzle (vegan)

I love this colourful dish for supper or lunch. Its so simple to put together and its vibrant colours wake up our taste buds. The chickpeas add protein and fibre, the basil adds folic acid, vitamins and minerals and the tomato and pepper sauce with all its antioxidants is a delicious combination of sweet peppers and tart tomatoes to dot over the roast vegetables. Extra virgin olive oil is heart healthy. Scatter feta cheese over if you take dairy.

Roast Veg
1 aubergine, chopped into bite size pieces
2 red onions, peeled and chopped as above
1 red and one orange pepper, de seeded and chopped as above
1 courgette, chopped as above
olive oil

Place in a roasting tray in a single layer and drizzle over some olive oil, sprinkle with sea salt and black pepper. Roast in the middle oven for 30 to 40 minutes until vegetables are soft and slightly charred. Set aside.

Red pepper and tomato sauce

1 jar of Bunlaun organic tomato and red pepper sauce or 1 x 400g tin chopped tomatoes
1 jar of red peppers in brine, drained and roughly chopped or 1 red pepper finely chopped
1 onion, chopped
2 cloves garlic, crushed
1 tsp dried oregano
1 tsp sea salt
1 tsp brown sugar
2 tbsp olive oil
1 tbsp butter – leave out for vegan version

Gently fry the onion and red pepper (if not using a jar of peppers) and garlic in the oil and butter (if using) till soft.
Add the jar of drained chopped peppers and tin or jar of tomatoes, salt, sugar and oregano. Bring to the boil and simmer with lid off for 15 minutes, stirring occasionally. Liquidise with a hand held blender. Set aside.

Basil drizzle 

Leaves and stalks from one basil plant (buy in supermarket) or 30g bag of basil leaves and stalks, rinsed and dried
4 tbsp extra virgin olive oil
1 clove garlic, roughly chopped
1/2 tsp salt
Freshly ground black pepper

Place all the ingredients into your food processor and blitz till smooth. Set aside.

Pasta and chickpeas

1 x 400g tin chickpeas, drained
300g approx penne pasta white or wholegrain

Cook the pasta in plenty of boiling salted water for approx 10 minutes, or longer if necessary. When it is nearly ready add the chickpeas to heat through. Drain and set aside – drizzle some olive oil over to keep from sticking.

Arrange the pasta and chickpeas over a serving dish, scatter over the roast veg, spoon over some red pepper and tomato sauce and dot with basil drizzle. Serve with additional sauce and basil drizzle on the side. Lovely with cubed feta cheese if you eat dairy.