24 Jan

Peanut butter, tofu and vegetable stew with Chickpeas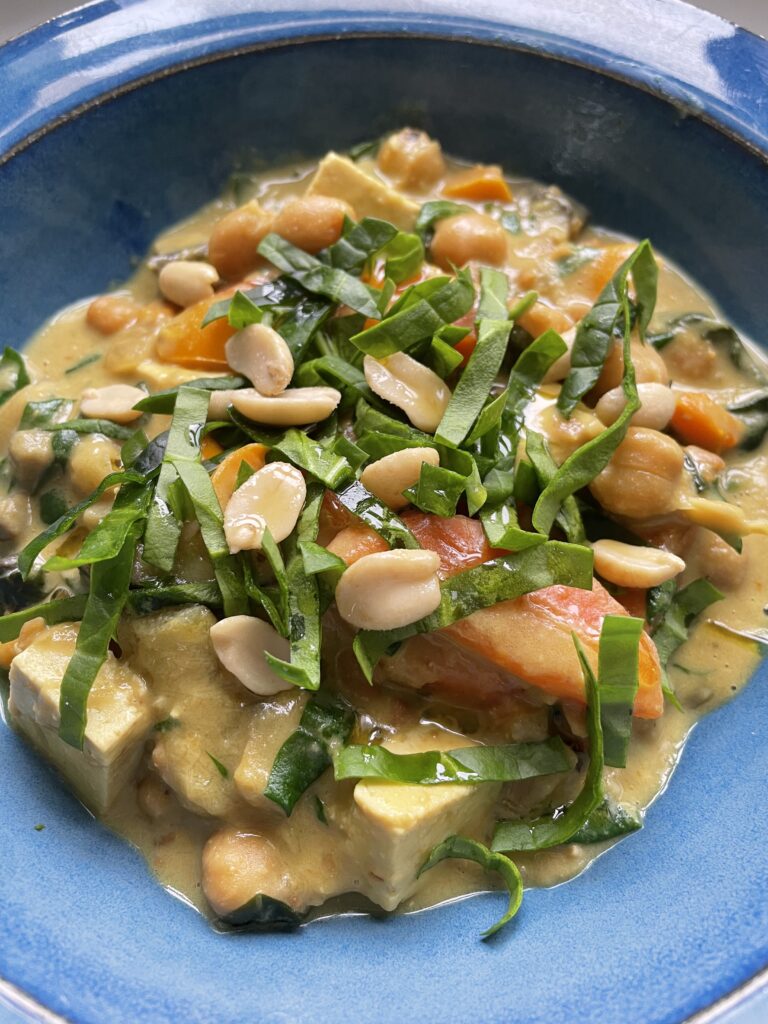 If you like peanut butter you will love this. I served it with brown rice but noodles would fit well too. Chickpeas add substance and protein as does the tofu.

1 onion, chopped
2 carrots,sliced
1 sweet potato, scrubbed and cubed with skin on
1 large courgette cubed
2 cloves garlic, crushed
1 tbsp grated ginger
1/2 tsp chilli flakes
1 tsp turmeric
1 tsp vegetable bouillon
2 tsp brown sugar
1 tbsp shoyu or tamari
1 tin chickpeas, plus their water
100g peanut butter smooth or crunchy
1 can coconut milk
1 pk of tofu, cubed I like to use the tofoo make
juice and zest of one lime
1/2 Bag of baby washed spinach
salt and black pepper
salted peanuts for garnish

In a a large saucepan, fry the onion in a glug of olive oil or coconut oil. Fry till soft then add the carrots and sweet potato, then the courgette. Add the garlic, ginger, spices, sugar and bouillon and a tsp salt. Stir well and fry together for about 10 minutes. Add the chickpeas, plus their water, the coconut milk, tamari and peanut butter. Add a splash of water if it is too thick. Stir and turn up the heat until nicely bubbling and turn down the heat to a simmer. Add the lime juice and zest and the cubed tofu. Cook for another 10 minutes or until everything is tender. Stir in most of the spinach, check the seasoning adding a few grinds of black pepper.
Serve on a bed of brown rice or noodles with the salted peanuts on top and some shredded spinach.