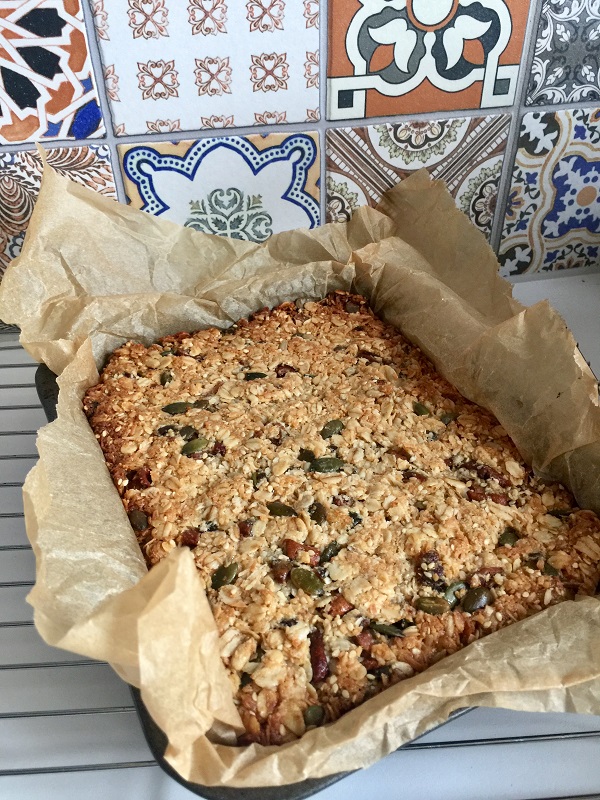 05 Dec

Pear and almond and coconut flapjacks (vegan)

These are based on my seeded flapjack recipe but with a couple of changes. Softer and chewier than the seeded ones, these are great as a mid morning snack or a breakfast or snack on the go. Packed with protein from the seeds and almonds and energy from the natural sweetness of the dates and dried pears. The oats offer slow release energy. You can buy the dried pears in Holland and Barratt. Fresh pears wont work for this as they contain too much moisture. Brow rice syrup contains B vitamins and has glue like properties for helping to keep the flapjacks sticking together!

100g jumbo oats
100g ground almonds
50g finely chopped dried pears, soaked in hot water for 30 minutes
50g dates, finely chopped
2 tbsp pumpkin seeds
2 tbsp sunflower seeds
50g desiccated coconut
75ml coconut oil
100ml brown rice syrup
1/4 tsp salt

Heat oven gas 5 electric 190C and scrunch up a sheet of baking paper and line a tin approx 16cm x 22cm

Mix all the dry ingredients in a bowl together.
Melt the coconut oil and brown rice syrup together – the best way to measure the syrup is to put a small saucepan on your scales set to zero and squeeze syrup straight from the container into saucepan and then add the coconut oil and melt together.
Drain the pear pieces and add to the ingredients then stir in the syrup and oil mix.

Press the mixture into your prepared pan and bake in the oven for 25 to 30 minutes or until nicely browned.

When  cool enough to handle remove from tin by holding the paper and leave to cool for a few minutes on a cooling rack.
Wait about 10 minutes and then place a bread board over the flapjacks and with the cooling rack underneath turn them over and out of the paper very carefully onto the board. Then place the cooling rack on top to invert them back onto the cooling rack, hope that makes sense! If they cool in the paper they get soggy.

When they are nearly cold, slide onto the bread board and cut into squares. If they break up as you cut them just press back together and leave to cool completely on the cooling rack.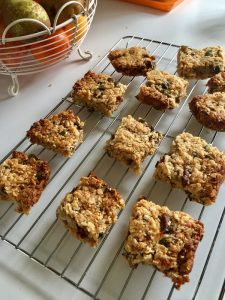 Store in an airtight container for a week if they last that long!