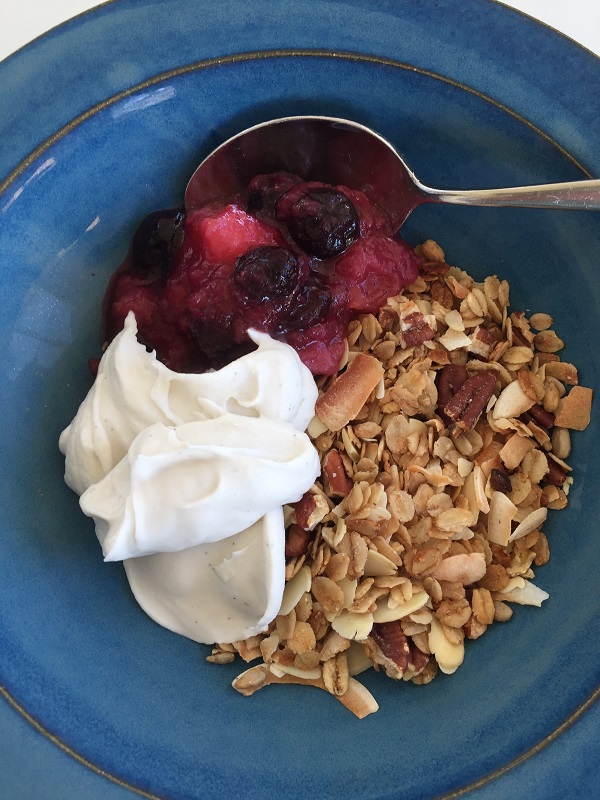 13 Jan

Pecan and maple granola with fruit compote and coconut yoghurt (vegan)

Granola makes a delicious breakfast or a snack any time of the day. I like mine served with my home made coconut yoghurt (see recipe) and some fresh fruit in the summer and fruit compote in the winter.
Wonderful soluble fibre from the oats and coconut,  soluble fibre, protein and omega oils from the sunflower seeds, protein and good oils from the pecans and almonds, coconut oil provides anti viral and anti bacterial properties and naturally sweetened with maple syrup.

250g jumbo porridge oats
100g flaked almonds
50g coconut flakes
3 tbsp sunflower seeds
100g pecan nuts, roughly chopped
100ml coconut oil
6 tbsp maple syrup or brown rice syrup

Heat oven to gas 5 or 190C

Place the oats, sunflower, pecan nuts into a large bowl.
Heat the oil and maple syrup together in a small saucepan and pour over the oat mix and stir to coat.
Spread over a large baking tray in a single layer and bake in oven – check every 8 minutes and turn with a spatula for  16 minutes.
Add in the flaked almonds and coconut (these go in later as they toast really quickly) and bake for another 5 minutes or until everything is lightly browned.
Cool and store in an airtight container.

Fruit compote

2 eating apples, chopped skin off if you prefer
1 punnet of blueberries
1 punnet of raspberries or strawberries
2 tbsp maple syrup
1 tsp vanilla extract or paste

Place all the ingredients in a saucepan and poach on a low heat till everything is softened.
Cool and store in the fridge in a jar with a lid.
For one portion, heat a couple of tablespoons gently in a small saucepan and serve on the granola.