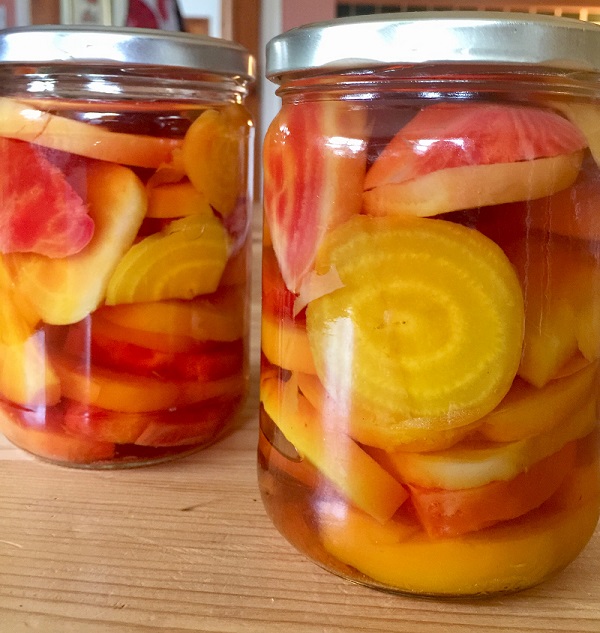 11 Aug

Pickled golden beetroot

I got some beautiful colourful beetroots in our local farmers market and this is the result. Simple to do and this will keep for up to a year.

800 kg beetroots any colour is ok
100g soft brown sugar
2 bay leaves
500ml cider vinegar
2 tsp salt

Scrub the beetroots but leave the roots on and at least 4 inches of the stalk. This is so they don't lose all their colour in the boiling process.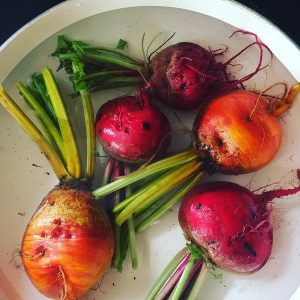 Put into a saucepan in a single layer and pour over water to just cover. Bring to the boil and simmer for 30 minutes or until just tender. They will lose some of their colour.
Meanwhile put the vinegar, sugar and bay leaves into a saucepan and heat until the sugar dissolves. Set aside.
Remove the beets from the water and drain and when cool enough to handle, peel the skins off gently and remove the roots and stalks. Slice into pieces.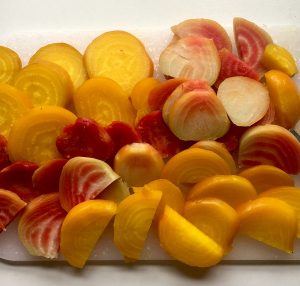 Put the pieces into 2 large sterilised jars – i use 400ml coconut oil jars – (wash lids and jars in hot soapy water and rinse and dry in a low temperature oven for 20 minutes).
Sprinkle a tsp of salt over the top of the beets in each jar and pour over the sugar vinegar mixture until the beets are covered. Pop a bay leaf into each one.
Screw on the lid and leave in a cool place for at least a month but should last up to a year or so.