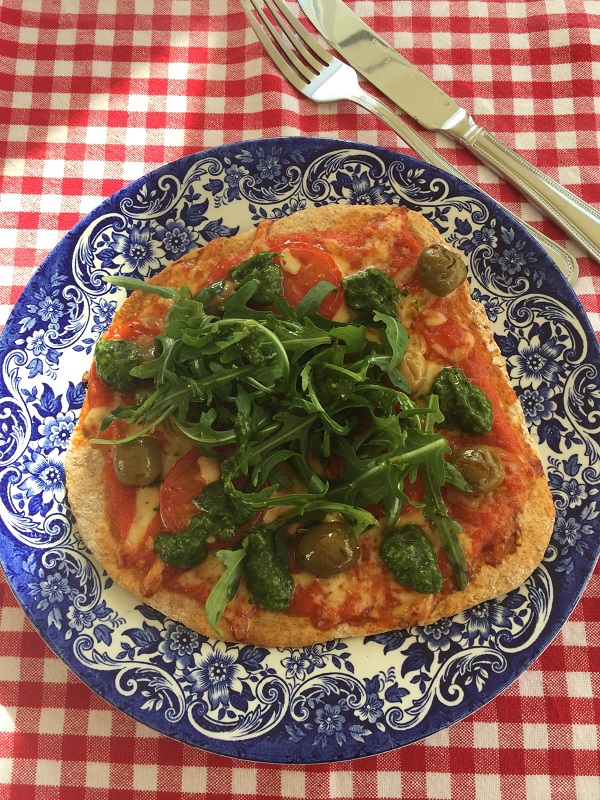 20 Mar

Pizza with buttermilk pizza base

This base is chewy and delicious and so easy to make, no raising required. We had a carton of buttermilk left over from a cake my daughter had made. I looked for recipes to use it up and came across a pizza base/ flatbread recipe. Buttermilk is a fermented product traditionally used in Irish baking for soda bread.

I've included a simple tomato sauce recipe but you can use a bought tomato sauce for a base on the pizza and choose your favourite toppings. Topped with a handful of rocket and a drizzle of olive oil just before serving looks lovely and tastes good.

For the pizza base (this makes 4 pizzas approx 7 inch diameter each)

200g spelt wholegrain flour
100g white spelt flour
1 tsp salt
1 tsp baking powder
200 ml buttermilk

Place the flour into your bowl and add the salt and baking powder and mix well. Make a well in the centre and add the buttermilk gradually, mixing with a wooden spoon or spatula as you go. If it seems a little dry and a bit more. Or if it seems too wet add a bit of flour – you want a non sticky but soft dough. Or mix together in a food processor.
Knead the dough for a few seconds on a floured surface and divide into 4 pieces.
Roll each piece into a round approx 7 inches diameter and place a heavy based frying pan on the hob – heat and carefully place a base into the pan (don't use any oil this is using a dry pan). It will puff up a little, cook for a few minutes then flip over and cook for another few minutes, allow it to colour slightly then place on a cooling rack and repeat with the other  pieces of dough.

Make the tomato sauce

1 x 400g tin chopped tomatoes
1 clove garlic, crushed
1 onion finely chopped
1 tsp oregano
1 tsp salt
1 tsp sugar
2 tbsp olive oil

Fry the onion and garlic gently in the oil in a saucepan until soft, add the tin of tomatoes, oregano, salt and sugar and bring to the boil. Turn down to a simmer and cook for 15  minutes, lid off. Blitz with a hand held blender and allow to cool a little.

Assemble the pizzas 

Spread a few tablespoonfuls of sauce over the bases.
Add toppings, I love to use :
Slices of precooked aubergine (cut into discs and bake in some olive oil in the oven or fry in a pan)
Thin slices of red pepper, mushrooms, courgettes, artichokes
Dollops of pesto (can also be added after cooking)
Black or green olives
Cheeses – crumble on some roquefort, feta, goats cheese or good old cheddar

Cook on a baking tray for 15 minutes gas 7 or 250C until nicely browned and sizzling.

Top with rocket and drizzle over extra virgin olive oil.