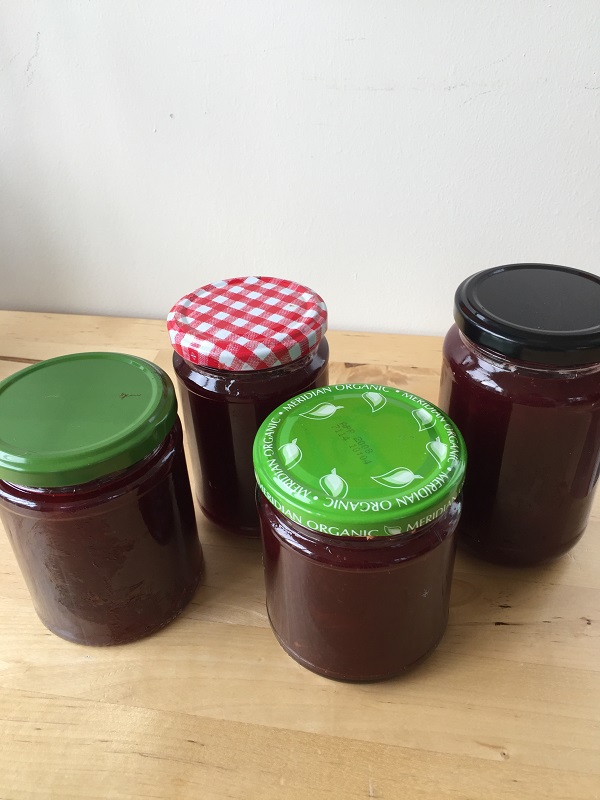 06 Sep

Plum Jam with honey and vanilla

Autumn is a lovely time of year when people share the bounty from of their gardens and hedgerows. I was given some plums this week so made jam but because I always shudder at the amount of sugar that goes into jam I have halved the amount and used half honey and half brown sugar as I can't bring myself to use white sugar. I used regular supermarket honey as it is going to be boiled so no point in using a lovely expensive local raw honey which would lose all its nutrients once cooked.
It will need to go into the fridge as soon as it is opened because the preserving nature of sugar wont be as strong.

Makes 4 jars.

1200 g or 4 lb plums, stoned
1 x 400 g jar of regular supermarket honey
200g demerera sugar
2 tbsp lemon juice
1 tbsp vanilla extract

Wash the jars in super hot water and the lids. Allow to drip dry and use a clean cloth to final drying.
Wash the plums, using a small sharp knife, halve and quarter around the stones and take out stones.
Place in a large deep saucepan with the other ingredients except the sugar and bring to the boil and simmer for 5 minutes until the plums release their juices.
Stir in the sugar and then turn up the heat until you have a rolling boil. If it is spitting turn down the heat a bit until it stops.
Keep boiling fairly vigorously for 20 minutes or until it seems to be thickening. Test a teaspoonful on a cold saucer and if it wrinkles when pushed with the spoon its ready.
Let it cool for about 15 minutes then using a hand held blender, immerse into the jam and blend to break up the skins and this helps it to thicken too.

Ladle into the clean jars, screw on the lid tightly and allow to cool. Store in a cool place and once opened store in the fridge.