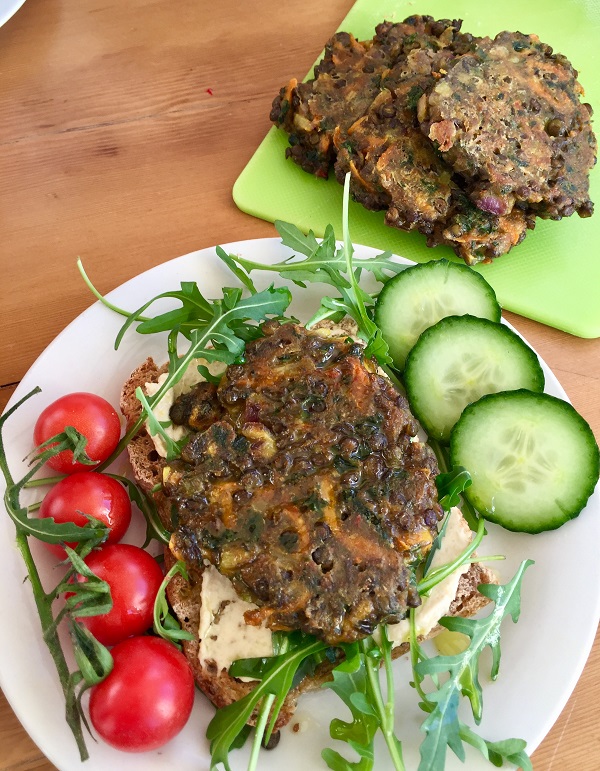 06 Jan

Puy lentil fritters

I borrowed this recipe from Otolenghi's page in the Guardian and tweaked it a bit. These are perfect for lunch or supper and especially good in a pita bread or topping some sourdough with avocado or hummus and salad. Perfect for lunch boxes too. Lentils are packed with protien and fibre, egg to bind also adds protein and good oils. Can be frozen too.

100g puy lentils, small brown or green lentils but not red ones
75g wholemeal flour
1 small red onion, finely chopped
1 handful of parsley or kale, very finely shredded
1 medium carrot, grated
1 small courgette, grated
1 good size clove garlic. crushed
1/2 tsp turmeric powder
1 tsp cumin powder
1/4 tsp chilli flakes
1 tsp salt
good few grinds of black pepper
1 very large egg or 2 medium eggs, beaten
Coconut oil or olive oil for frying

First cook the lentils – place in a medium size pan with 200ml water. Bring to the boil and then turn down to a simmer and put the lid on. Cook for 30 mins or until lentils are soft. There should be enough water and all of it will be absorbed. Just keep an eye incase it boils dry.
Set aside to cool for 15 mins.
Place all the vegetables, spices and salt into a large bowl and stir together. Add the flour and mix well.
Add the cooled lentils and mix well then add the beaten egg. Mix till all combined.
Heat 1-2 tbsp oil a frying pan, take dessertspoonfuls of the mix and cook four at a time, flattening and shaping into a round once they are in the pan.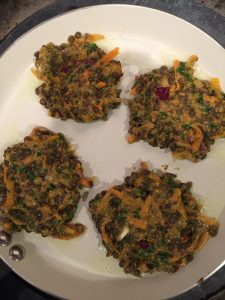 Cook for 4 minutes each side and then place on kitchen paper to absorb any excess oil.
Serve warm or cold.