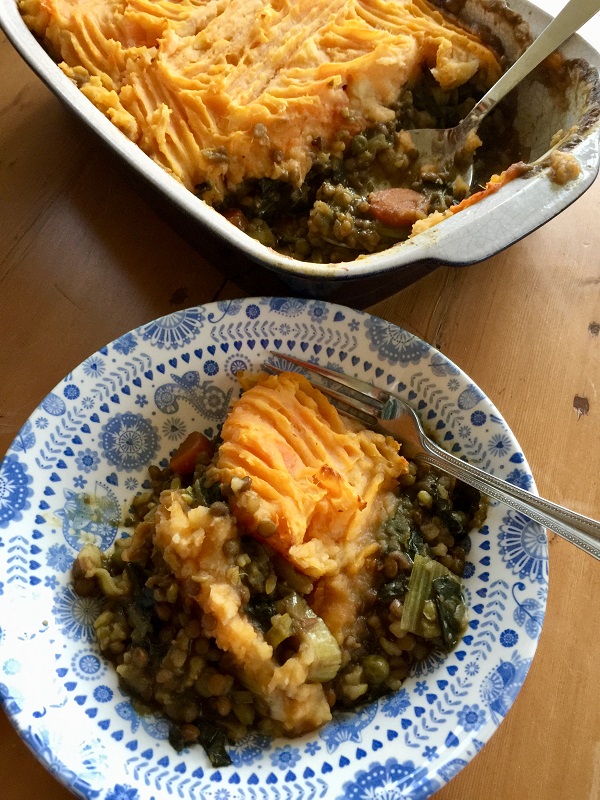 24 Sep

Puy lentil and mushroom vegetable shepherds pie (vegan)

A great dish for Autumn and chilly evenings. It makes a good size pie which will hold over for a few nights giving you an instant dinner when you return from work. I like to serve it with pan fried white cabbage. The ingredients give us lots of protein, low GL carbohydrates and antioxidants.

150g puy lentils
50g short grain brown rice
400ml water

1 medium onion, chopped small
3 carrots, sliced
2 leeks, cleaned and sliced
1 punnet mushrooms, sliced
1 pk bok choi, sliced
1 bag kale, washed and stripped off main stem and finely shredded
100g frozen peas
2 tsp cumin powder
1 tsp turmeric powder
2 cloves garlic, crushed
2 tbsp shoyu (strong soya sauce, use carefully as it is very strong in taste)
2 tsp vegetable bouillon
1 tsp salt
Freshly ground black pepper

3 medium potatoes, peeled, chopped into big chunks
3 sweet potatoes, peeled

Preheat the oven gas 5 or 190C.
Rinse the lentils and rice together in a sieve, drain and add to a medium size saucepan with a lid and pour on the water. Bring to the boil and turn down to a simmer and cook for 35 minutes, all the water should be used up and lentils and rice cooked. Set aside.
Meanwhile put the potatoes and sweet potatoes and a tsp salt into a saucepan and cover with water, Bring to the boil, put on the lid and turn down to a simmer and cook till soft around 20 minutes. Drain and set aside.
Heat 3 tbsp olive oil in a large pan with a lid. Add the onions and leeks, cook for a few minutes on medium heat, then add the carrots and mushrooms, cook for a few minutes, then add the spices and garlic. Cook for a few minutes then add the bok choi, peas and kale and then the bouillon, salt, shoyu and enough water to just cover the vegetables. Bring to the boil, then turn down to a simmer and cook for 20 minutes with a lid on or until vegetables are soft.
Mash the potatoes with 3 tbsp olive oil and a tsp salt and some black pepper.
When the vegetables are done, add in the lentils and rice and stir to mix.  Check the seasoning and add more salt or shoyu if necessary.
Spoon this into an oiled large lasagne type oven proof dish leaving about an inch before the top. Spoon on the mashed potatoes and using a fork level to cover all the vegetable/lentil mixture.
Bake in the centre of the oven for about 30 minutes until the gravy from the vegetables bubbles up around the edges of the potato and its lightly browned.