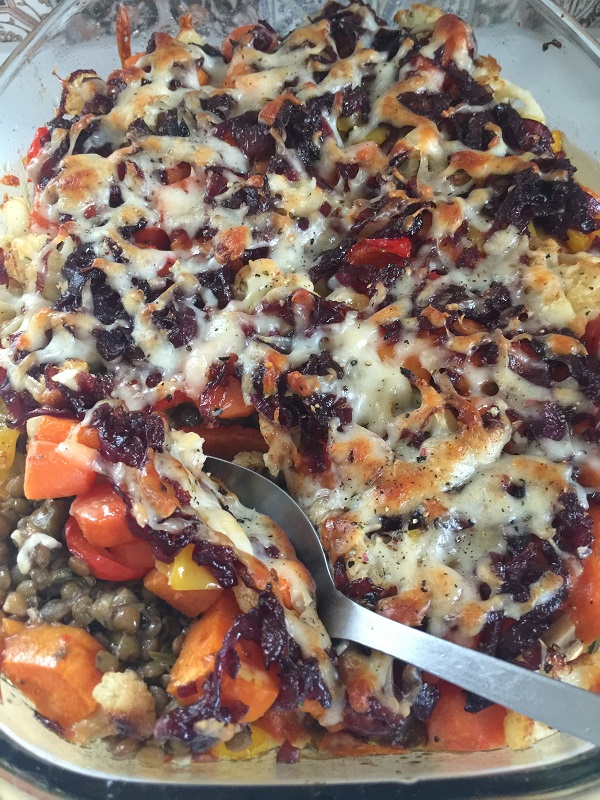 25 Jan

Puy lentil and roast vegetable layer bake with caramelised onions

This new recipe is a few recipes in one which isn't a bad thing! A lovely way to serve lentils with lots of vegetables. It can be made vegan by using a vegan hard cheese or leaving it out altogther.

Roast veg layer
2 medium carrots, peeled and cut into small chunks
1 medium sweet potato, peeled and cut into small chunks
1 red and one orange pepper, deseeded and cut into small chunks
1/2 cauliflower, broken into small florets
olive oil
Salt and black pepper

Preheat oven to gas 6 or 200C.
Place all the veg into a bowl, drizzle with lots of oil and grind over pepper and salt and toss to coat. Transfer to a lined baking tray in a single layer and roast for 30 minutes or until slightly browned and softened.

Lentil layer

2 leeks, trimmed washed and cut into slices
250g mushrooms, cleaned and sliced
3 cloves garlic, crushed
200g puy lentils
2 tbsp vegan worcester sauce
1 tbsp shoyu or tamari
1 tsp vegetable bouillon
2 tbsp olive oil
1 tbsp butter or coconut oil
Fry the leeks and mushrooms in a large saucepan with a lid the oil and butter or coconut oil until soft about 8 minutes, then add the garlic and other ingredients. fry for a few minutes, then add the lentils and 400ml water. Bring to the boil and turn down to a simmer and cook for 30 minutes or until lentils are soft. Check seasoning and add salt if needed.

caramelised onions

3 medium red onions, peeled and sliced thinly
3 tbsp olive or rapeseed oil
1 tbsp balsamic vinegar
1 tbsp light soft brown sugar
few grinds of salt
fry the onions in the oil for about 30 minutes until the collapse and reduce and slightly browned, Then add the vinegar and sugar and grind over some salt then cook for another 5 minutes. Set aside.

Assembly
Oil a large deep pyrex dish and spoon in the lentil mix and smooth. Then spoon over the roast veg and sprinkle over the caramelised onions. Sprinkle over 75g hard goats cheese or hard vegan cheese or leave out.

Bake for 20 minutes to brown the cheese. Serve with mashed potatoes and cabbage or kale or salad.