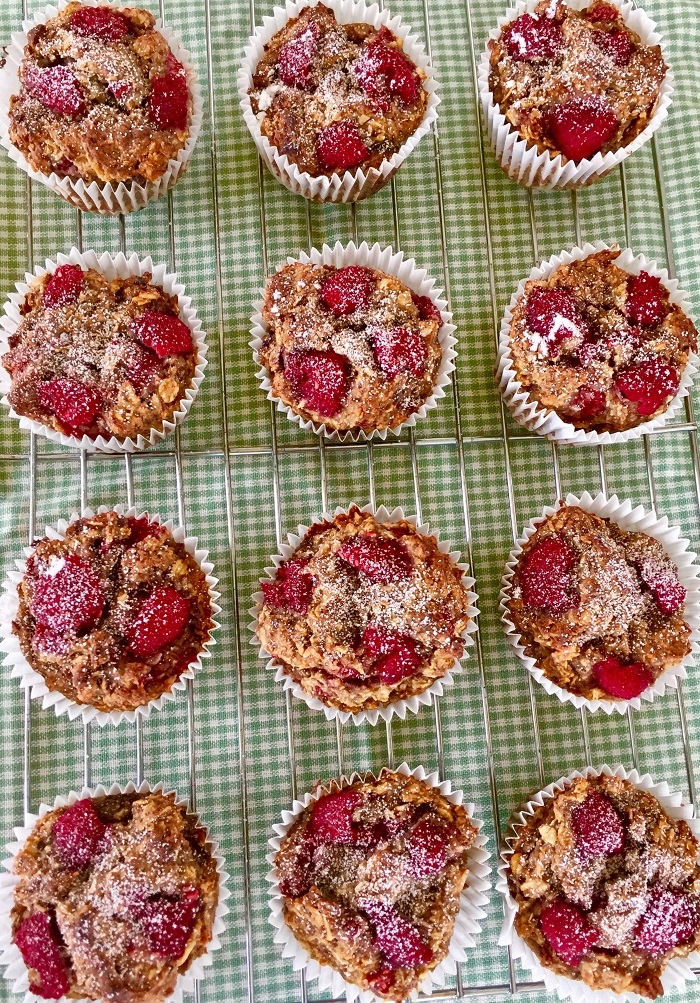 18 Mar

Raspberry and banana muffins (vegan and no added sugar)

These simple muffins contain lots of nutrition – omega 3 and protein and soluble fibre from the chia seeds, natural sweeteners dates also contain fibre and B vitamins and magnesium, oats also contain magnesium, soluble fibre and help to balance sugar levels with their slow releasing energy. Ground almonds provide protein and good oils.
Ripe bananas are high in anti oxidants and potassium and provide natural sweeteners. Raspberries are slightly sharp and contrast beautifully with the natural sweetness of the muffins.

Wet Ingredients
3 very ripe bananas, medium size
1 small tin (160g) coconut milk I used Thai Gold, just use the cream which will be thicker at the top of the tin and use the water in a soup or smoothie.
150g dates, roughly chopped and soaked in hot water from the kettle for 10 minutes and then well drained
50g coconut oil, melted
2 tbsp chia seeds, soaked in very hot water just off the boil from the kettle for 10 minutes, they should form a thick gel

Dry Ingredients
100g ground almonds
100g white or wholemeal spelt flour
100g porridge oats
50g desiccated coconut
2 tsp baking powder

150g fresh raspberries, cut in half

Soak the chia seeds and dates as above.
Line a 12 hole muffin tin with paper cases
Preheat oven to gas 5 or 190C
Place all the dry ingredients together in a large bowl. Mix.
Place all the wet ingredients into the food processor and process till smooth but still with a bit of texture from the dates.
Mix the wet into the dry ingredients and fold in 3/4 of the raspberries.
Fill the muffin cases to the top and press on the rest of the raspberries.
Bake in the centre of the oven for 35 minutes or until nicely browned.
Cool on a cooling rack and sprinkle with a little icing sugar if you like.
Serve warm or cold with coconut yoghurt or on their own. Lovely for breakfast or a snack.
Can be frozen but will last in an airtight box for a few days.