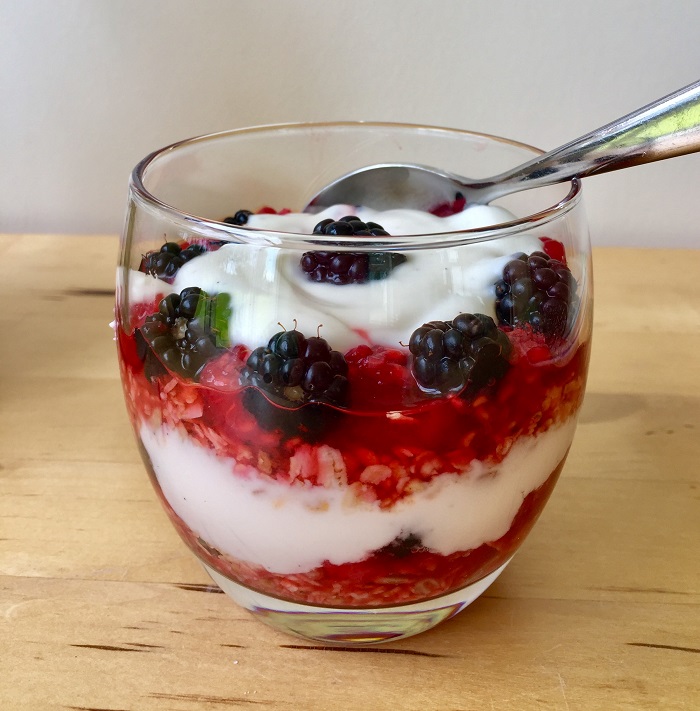 03 Sep

Raspberry, yoghurt, granola layered breakfast/dessert (Vegan)

I got the idea from the Scottish recipe Cranachan. In the original recipe they use cream, toasted oatmeal and whiskey, so I've used granola instead of oats, coconut yoghurt instead of cream and I've left out the whiskey!
I really enjoyed creating this – freshly picked blackberries on my walk this morning, local raw honey and raspberries. The granola and coconut yoghurt recipes are on my website. It is so easy and so delicious brimming with vitamin C and fibre and antioxidants.

Serves 2 (approximate amounts) no hard and fast rules

1 punnet of raspberries
6 tbsp or more coconut yoghurt either buy or make my recipe see in desserts
6 tbsp or more granola either buy or use my recipe in Breakfasts
1 tbsp raw honey
handful of freshly picked blackberries

Put the raspberries into a small bowl and using a fork mash them with the honey.
Use 2 deep wine glasses. Put 2 tbsp granola into the bottom followed by 2 tbsp mushed raspberries, followed by a few blackberries, followed by 2 tbsp coconut yoghurt followed by more granola and start the process again finishing with the yoghurt.

Delicious for breakfast or as a dessert.