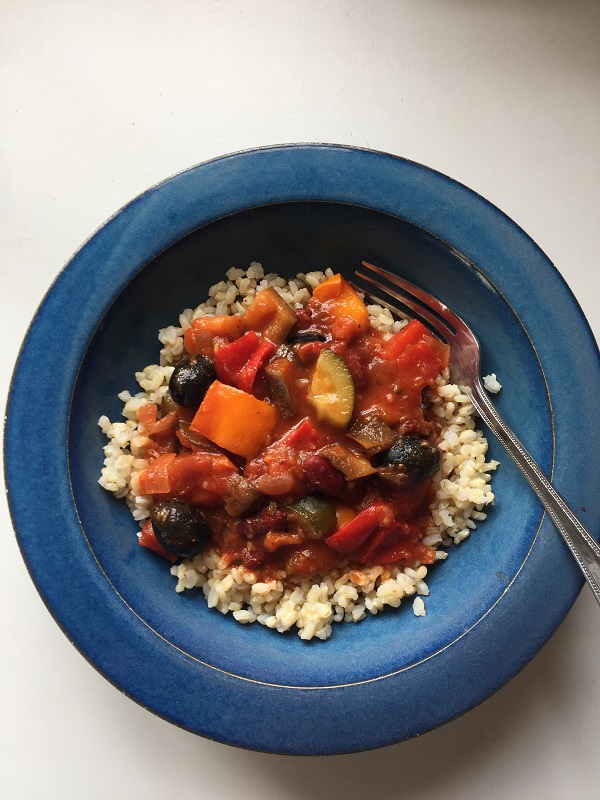 15 Mar

Red bean Ratatouille with black olives (vegan)

This is one of my favourite recipes – Ratatouille is delicious simply served with brown rice and if you can take dairy, a crumbling of goats cheese or feta ( a vegetarian make is Cypresa from Healthfood shops its made with vegetarian rennet), or served with veggie burgers and coleslaw and a green salad is another of my favourite combinations. It also makes a great vegetable sauce for a vegetarian lasagne.
Some people think they don't like Aubergine, but it is delicious when cooked properly and it is like a sponge absorbing other flavours, so make sure it is very soft when a fork is pressed into a piece otherwise cook on for a few more minutes.

Nutritionally this recipe contains antioxidants and vitamin C from the tomatoes (lycopene which is stronger in cooked tomatoes) and in the red and orange peppers. Red onions also contain antioxidants and a powerful chemical or flavonoid called Quercetin which can help to inhibit cancer cell growth. Red kidney beans are a great source of protein and soluble fibre which helps to remove excess cholesterol from the body.

1 x 400g tin red kidney beans, organic if possible, drained and rinsed
1 x 400g tin chopped tomatoes or 400g from a jar of passata
1 small jar black olives. drained and rinsed
1 medium red onion, chopped
1 aubergine, chopped into bite size pieces
1 red and 1 orange pepper, de seeded and chopped into bite size pieces
2 cloves garlic, crushed
1 courgette, chopped into bite size pieces
2 tsp dried oregano
2 tbsp tomato paste
1 tsp brown sugar (to counteract the acidity of the tomatoes)
2 tsp himalayan or sea salt
Freshly ground black pepper
3 tbsp olive oil

First fry the onion in the olive oil for  few minutes and then add the aubergine, peppers and courgette and with the lid on cook gently for 10 minutes, stirring occasionally.
Add the garlic and oregano and tomato paste and cook for a few seconds stirring, then add the tomatoes and beans and a tin of water from the tomatoes. Then add the salt and sugar. Bring to the boil and simmer with the lid on for 25 minutes or until everything is soft.
Check the seasoning and add the olives.

Serve as above.