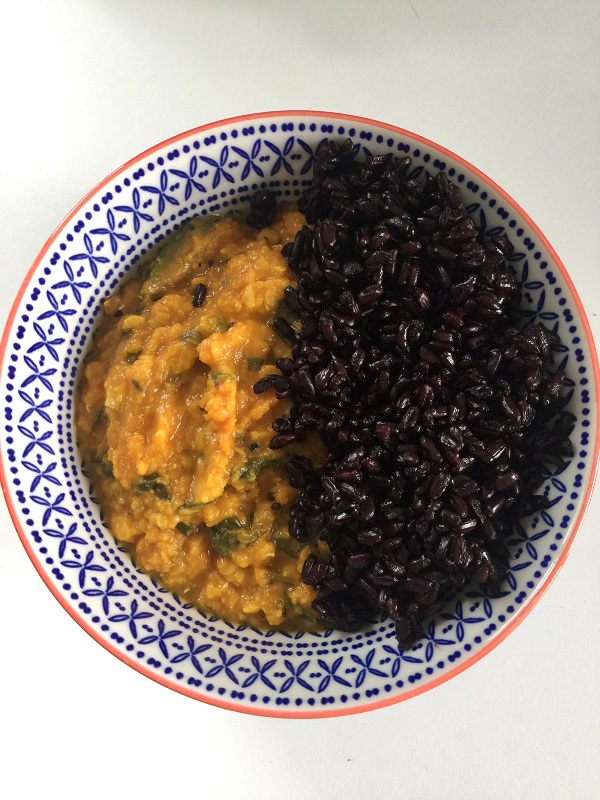 10 Feb

Red lentil dal with spinach served with black venus rice

I love dal in all its different forms. This recipe was in the Guardian Feast magazine by Anna Jones and this is my tweaked version. It can be made thick like a stew or thinned to a soup consistency. Its delicious served with Meera Shoda's coconut pea chutneyin next recipe. This recipe uses a great method where you blitz all the spices etc in the blender to make a paste which is then fried.

200g red lentils
1 tsp salt
800ml water

for the paste
2 large tomatoes roughly chopped
2 tsp kashmiri chilli powder (available in Indian grocers) this is mild so you can use more or use a mild chili powder and just use 1 tsp
1 tsp cumin powder
1 tsp turmeric powder
1 inch of ginger roughly sliced
3 cloves garlic
juice from 1 1/2 limes – keep last half to squeeze in at the end
1 tsp salt
2 tsp caster sugar

Topping or temper as it is known
3 tbsp rapeseed or coconut oil
2 tsp punchipooran available in Indian grocers its a mix of black mustard seed, fenugreek, cumin seed, fennel seed
10 fresh curry leaves available from Indian grocers
1 green chilli, seeds removed and finely sliced
2 cloves garlic, peeled and finely sliced

1/2 pack of ready washed baby spinach, shredded

Place the lentils in a large saucepan with a lid, add the salt and bring to the boil then turn down to a simmer for 25 minutes or until soft.
Place all the paste ingredients in your blender and blend till smooth. A food processor wont work for this. Heat a couple tablespoons of oil in a small frying pan and heat then scrape the paste into the hot oil and fry on a gentle heat for about 8 minutes to cook the spices and release the flavours.
When the lentils are cooked add the cooked paste and cook for about 8 minutes to combine the flavours.
Stir in the shredded spinach and taste and add salt if necessary.

Temper – In the small frying pan used for the paste add the oil and heat then add the punchipooran, let it sizzle for a few seconds, then add the chilli, garlic and the curry leaves and let sizzle for a few seconds until you get a lovely aroma and the curry leaves crisp and the garlic lightly browns then remove from the heat.
Stir loosely into the dal and serve with black venus rice which can be bought in health food shops and cook as per instructions.
Squeeze the last half of lime over the dal.