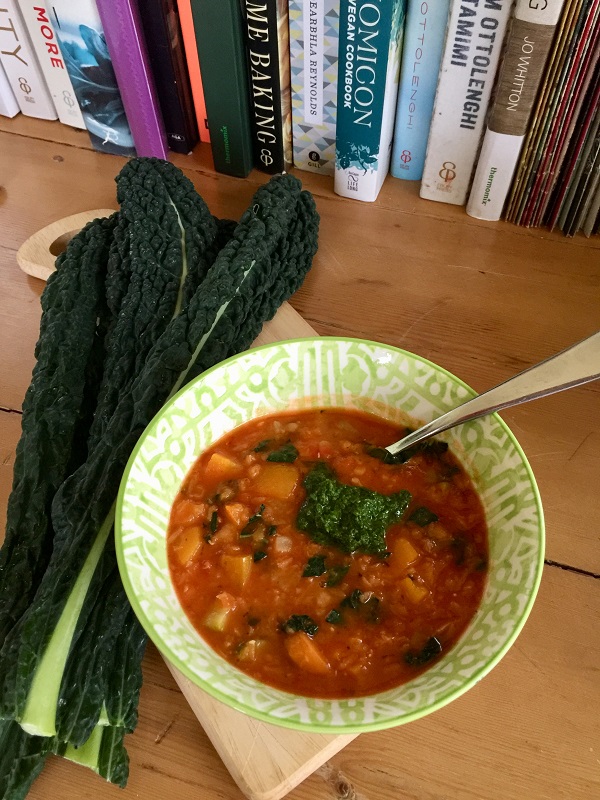 18 Sep

Red lentil, tomato and Nero di Toscano Kale soup with basil and parsley pesto

Autumn is here and soups beckon, and a simple red lentil based soup provides us with protein, silica for collagen in skin and hair and bones and Kale provides us with lots of folic acid and antioxidants. The tomatoes give this  soup distinctive Mediterranean flavours as well as antioxidants for a healthy immune system.

150g red lentils
1 400g tin finely chopped tomatoes
1 onion, finely chopped
2 carrots, diced
2 small courgettes, diced
2 cloves garlic, crushed
1 tsp dried oregano
1/2 tsp dried thyme
1/4 tsp dried red chilli flakes
2 tsp vegetable bouillon
1 tsp salt
1 tsp brown sugar to counteract the acidity of the tomatoes
6 spears of  kale, remove spine and finely chop
2 tbsp Olive oil

Heat the olive oil in a medium size saucepan and fry the onion for a few minutes then add the carrot and courgettes and fry for 5 minutes on a medium heat.
Add in the garlic and herbs and chilli flakes and fry for a minute making sure the garlic doesn't burn.
Add the tin tomatoes, red lentils and sugar and salt and bouillon. Top up with water so it is well covered.
Bring to the boil then turn down to a simmer and put the lid on stirring occasionally until the lentils are soft, about 20 minutes.
In a separate pan, dry fry the kale just to wilt it a bit then add to the soup and cook for 5 minutes.
Check seasoning.

Basil and Parsley Pesto

1 basil and 1 parsley plant from the supermarket
2 cloves garlic, peeled and sliced
8  tbsp extra virgin olive oil
1 tsp salt

Trim the leaves and stalks from the Basil and Parsley plants near to the soil and place in a colander to rinse through.
Shake dry and pack into your food processor.
Add in the sliced garlic and the oil and salt.
Process for a minute or till completely combined.

Ladle the soup into bowls and serve a dollop of pesto on top of each bowl.